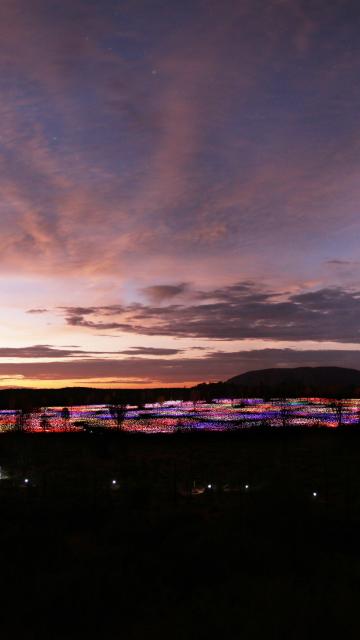 FIELD OF LIGHT ULURU TO DEBUT ON 1 APRIL 2016
Thursday, 19 November 2015
There is even more reason to visit the spiritual heart of Australia in 2016: the monumental art phenomenon, Bruce Munro's Field of Light Uluru, will make its Australian debut on 1 April. The solar-powered installation will illuminate a remote desert area within sight of majestic Uluru and will remain open throughout the Red Centre's distinct seasons until 31 March 2017.
The incredible installation will see Bruce Munro and his team install more than 50,000 slender stems crowned with frosted-glass spheres that will bloom as darkness falls over Australia's spiritual heartland. Pathways will draw viewers into the installation, which will come to life under the vast outback sky, brilliant with stars.
Bruce Munro conceived the idea for the Field of Light while visiting Uluru in 1992, but it wasn't until 2004 that the installation first materialised at both London's Victoria & Albert Museum and in Munro's own backyard in south-west England. Field of Light has since dazzled visitors at sites across the United Kingdom, the United States and Mexico.
Guests at Ayers Rock Resort will be invited to interact with Munro's monumental experiential artwork in one of three ways:
The entry-level Field of Light Pass ($35) includes return bus transfers to the remote site and time to experience the artwork
The Field of Light Star Pass ($75) includes the above, along with sparkling wine and canapes at an elevated viewing area at the end of the evening
The 4.5-hour A Night at Field of Light ($235) includes an introduction to the artwork by a host, sparkling wine and canapes at sunset from an elevated viewing area, extended time to immerse in the installation and a three-course buffet dinner showcasing bush tucker ingredients as well as return bus transfers. There is also an option to arrive by camel or helicopter for this experience.
A range of accommodation options are on offer at Ayers Rock Resort. For more details contact the Voyages Travel Centre on +61 2 8296 8010 or email [email protected]
For more information on the Field of Light at Uluru go to: ayersrockresort.com.au/experiences/field-of-light