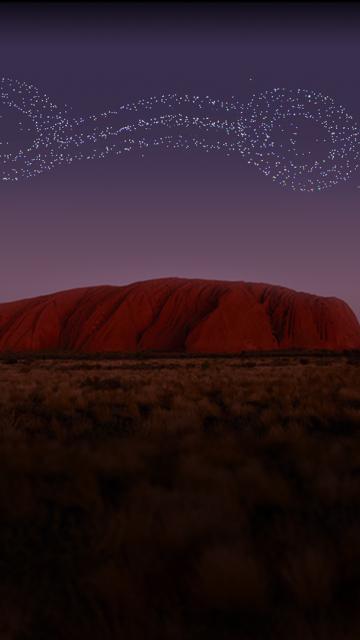 An ancient story takes flight at Uluru
Spectacular first of its kind sound and light show launches in the spiritual heart of Australia
2 February 2023
(2 February, 2023) Voyages Indigenous Tourism Australia is set to launch a breathtaking, fully-immersive light and sound show at Ayers Rock Resort in May, the likes of which have not been seen before, combining ancient Anangu storytelling with state-of-the-art, drone and laser light technology.
Called Wintjiri Wiru - which suggests a 'beautiful view out to the horizon' in the local Anangu language - this will be the first time a light, laser, projection and drone experience of this magnitude has been performed on a regular basis anywhere in the world.
Anangu have one of the oldest living continuous cultures in the world and have been the custodians of this country and its many stories, keeping them strong, since the beginning of time.
The show will bring to life a chapter of the Mala ancestral story which sits between Kaltukatjara (Docker River) and Uluru. Voyages has consulted and collaborated closely with the Anangu custodians of this chapter of the Mala story to obtain approval to bring Wintjiri Wiru to life.
Designed and produced by world-renowned Media Architecture studio RAMUS, the Wintjiri Wiru experience will illuminate the Central Desert with a spectacle of lights, projections and lasers shining on the spinifex and mulga, connecting the earth and sky to offer an expansive experience of light and sound in the presence of Uluru.
The depth of the story is revealed when more than 1,000 luminous drones take flight each night to lift the ancient images to the sky. Through exquisite choreography and visual artistry, the drones depict aspects of the Mala story accompanied by a narration in Pitjantjatjara and Yankunytjatjara languages, and a soundtrack with traditional inma recorded with members of the local Anangu community.
Working with community:
To bring the Mala story to life on such an impressive and visual scale, Voyages Indigenous Tourism Australia is consulting with Anangu who hold the Mala story from Kaltukatjara to Uluru.
The Anangu consultation group has been involved in naming the experience, advising on the visuals, narrating the story in English, Pitjantjatjara and Yankunytjatjara languages and delivering the music - ensuring that every level of the experience is shared with respect and in line with Anangu cultural protocols.
Visitors will be able to view the show on a sustainably-built platform atop a desert dune with stunning panoramic views of both Uluru and Kata Tjuta nestled on the horizon. Artwork from local Anangu artist and community member, Christine Brumby, has been cut into elements of the architectural steel separating the various seating levels of the platform and backlit for maximum impact.
Matthew Cameron-Smith, CEO of Voyages, said: "We are honoured that we can share the cultural importance of the Mala story with our guests, through such an illuminating and captivating experience in the spiritual heart of Australia. As custodians of the land and this part of the Mala story, the Anangu consultation group has carefully guided us on the Wintjiri Wiru experience, from conception to launch, to generously share their story with the world."
"We are delighted to be working with RAMUS through their light installations, projections, lasers and incredible drone technology, which coupled with the spine-tingling soundtrack of the Anangu inma, brings connection through a shared memorable experience. We hope the Wintjiri Wiru show will nourish visitors' thirst for a deeper spiritual connection with this very special part of Australia."
About the show:
Two Wintjiri Wiru sound and light shows will run every night, from March until December (from 11 May in 2023), with one show a night operating in January and February.
The signature experience will be the three-hour Wintjiri Wiru Sunset Dinner which starts with welcome cocktails and canapes while the sun sets over Kata Tjuta and Uluru. This will be followed by a gourmet dinner hamper celebrating native ingredients and paired with premium Australian wines. Once darkness has settled the dramatic light and sound show will begin. The Wintjiri Wiru Sunset Dinner experience included return resort transfers and is priced at $385pp.
A second show each evening called After Dark is a shorter, one hour-long experience including light refreshments followed by the show. After Dark costs $190pp.
About the Mala story:
The Mala story will be the first Indigenous story of its kind to be shared on this scale and frequency and is important Tjukurpa.
Tjukurpa has many complex meanings and is a philosophy that links Anangu to the environment and ancestors. Tjukurpa stories talk about the beginning of time when ancestral beings first created the world. These stories contain important lessons about the land and how to survive in the desert as well as rules for appropriate behaviour. Tjukurpa stories are also used like maps. They tell Anangu where important places are, how to travel from one place to another, and where and when to find water and food. These stories are not simple. They represent complex explanations of the origins and structure of the universe and the place and behaviour of all elements in it.
Voyages Indigenous Tourism Australia acknowledges continuing Anangu connection to land, water, sky, culture, and community and pays respect to Anangu communities and Elders and welcomes the opportunity to celebrate Anangu culture through the Wintjiri Wiru experience.
For more information go to: www.ayersrockresort.com.au or call 1300 134 044.
About Voyages Indigenous Tourism Australia:
Voyages Indigenous Tourism Australia is a wholly-owned subsidiary of the Indigenous Land and Sea Corporation (ILSC) established to undertake tourism business on its behalf. Voyages offers unique experiences and cultural immersion in spectacular locations around Australia including Ayers Rock Resort in the Northern Territory and the Mossman Gorge Cultural Centre in Tropical North Queensland. Voyages works closely with local communities, respecting and supporting Indigenous culture and offering employment, training, and business development opportunities to Aboriginal and Torres Strait Islanders.
About RAMUS:
RAMUS is led by Canadian-born light artist Bruce Ramus who has spent decades designing and producing light spectaculars around the world. Based in Melbourne, Australia Bruce has assembled a multi-disciplinary team to conceive and deliver permanent and temporary light artworks for commercial and government property developments, sports and entertainment, local council, retail, and tourism.
For further information:
Jill Collins
[email protected]
0417 654 474
Natalie Brown
[email protected]
0422 565 001
Images are available at www.voyages.com.au/presscentre