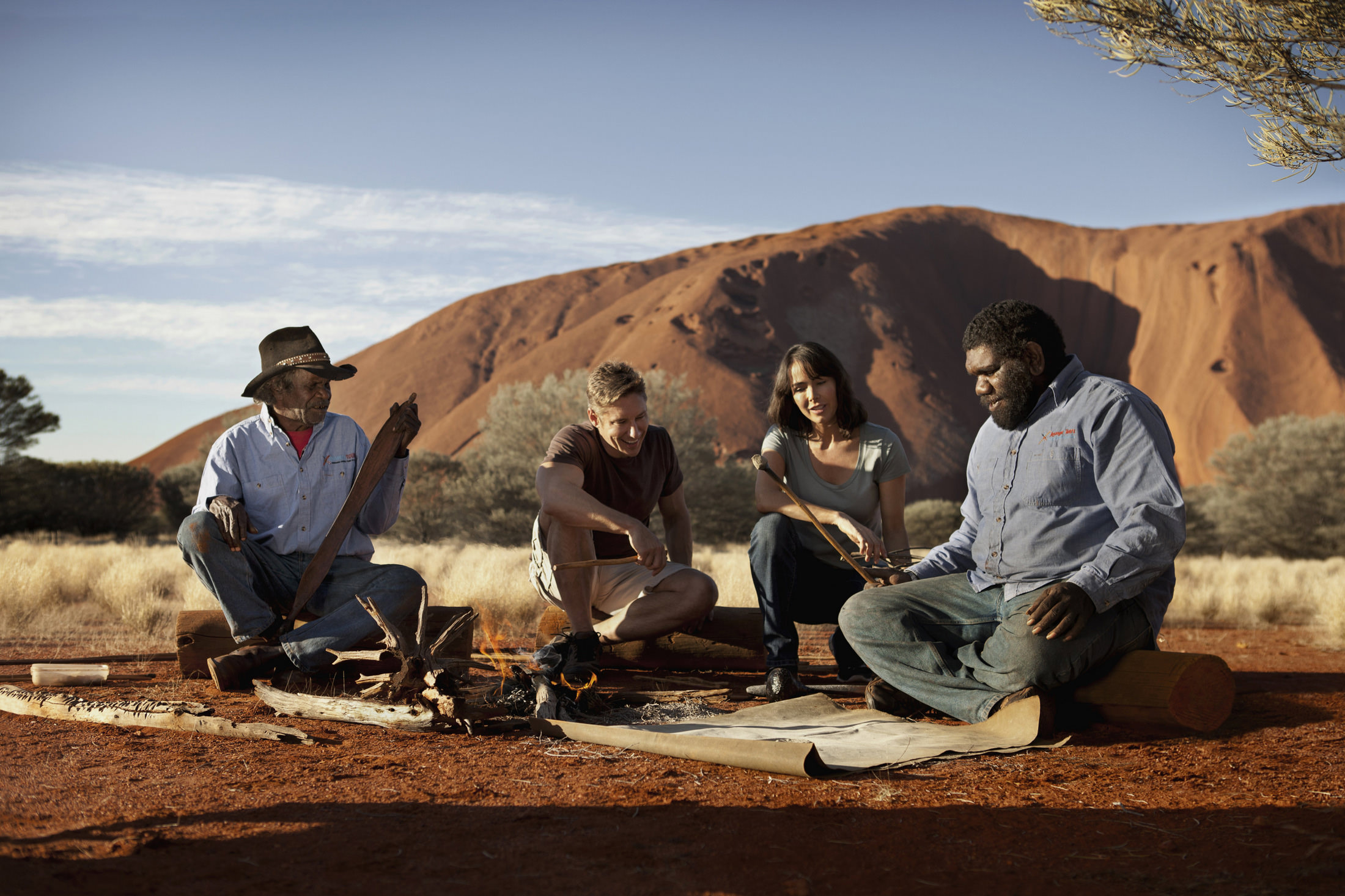 Matthew Cameron-Smith
Chief Executive Officer
Matthew Cameron-Smith commenced as CEO of Voyages in August 2020. Matthew has an extensive and highly successful background in national and international tourism, joining Voyages from The Travel Corporation, where he spent almost 10 years leading the Trafalgar guided holidays brand as well as his most recent position as Global CEO of AAT Kings.
Matthew's years with Travel Corp have provided him with a deep knowledge and appreciation of the Ayers Rock Resort experience and Indigenous culture. His prior experience has included roles with Trafalgar Tours, Tourism Australia - promoting the country in the UK and Europe markets, and Rydges Hotels & Resorts.
Matthew is a director of Ultimate Winery Experiences of Australia and previously a director of the Council of Australian Tour Operators. He holds a Master's degree in Business Administration and Management.
Matthew has an appreciation for Voyage' values – in particular, creating opportunities for Indigenous Australians by delivering amazing cultural tourism experiences. When he visits the resort, he loves to experience Tali Wiru, a four-course Indigenous-inspired menu that starts with a sparkling glass of champagne: an incredible night under the stars. 
Des Dockery
Chief Financial Officer
Des Dockery has worked in senior finance positions in Europe, Australia, and New Zealand for more than 15 years, in industries including aviation, telecommunications, corporate finance, and professional services. 
Des trained with KPMG Ireland and is a qualified chartered accountant. During his career, Des has enjoyed leading large, geographically-diverse finance functions, driving positive change and building great team cultures. He loves being part of the Voyages organisation not only because of the amazing experiences guests can enjoy, but because of the brand's mandate: changing lives through cultural tourism. Des is passionate about doing work that has a greater impact beyond the bottom line. 
Des recommends the Field of Light dinner to everyone who visits Ayers Rock Resort – enjoying great food under the stars, listening to Indigenous stories and the sounds of the didgeridoo is an experience that can't be matched anywhere else.
Ana Sofia Ayala
Chief Marketing Officer
Ana Sofia Ayala has been with Voyages since 2019, stepping into the CMO role in July 2020. Prior to joining the team at Voyages, Ana Sofia worked with global travel brands such as Royal Caribbean and Accor. 
When the opportunity to work with Voyages came up, Ana Sofia seized it because she's passionate about the brand's purpose, the commitment to social responsibility, and the principle of giving back profits to support Indigenous training and employment. She also loves the unique, iconic destinations where visitors can fully immerse themselves in authentic Australian culture. 
Ana Sofia recommends that anyone visiting Ayers Rock Resort should take in Field of Light – a truly magical and unique experience unlike anything else in the world. "The beauty of the stars, the peacefulness of the earth and environment that surround this installation is just magical. There are no other words to describe it.
David White
Chief Operating Officer
David White has been the Chief Operating Officer at Ayers Rock Resort since October 2018. This is David's second stint at the Resort, having first worked there as General Manager from 1996-2002. David was drawn back by the opportunity to work in one of Australia's most iconic destinations, where he oversees operations including the airport, numerous hotel properties, food and beverage, retail, and touring. 
David's role is not unlike managing a small city, and he enjoys leading a committed team of people living and working in such a unique trip of a lifetime and enjoy the exceptional, memorable experiences on offer. David also enjoys working closely with the local Mutitjulu community, offering opportunities at the Resort for the development of Indigenous career pathways. 
David's favourite experiences at Uluru include the Valley of the Winds walk through Kata Tjuta, gazing at incredible sunsets from the Resort's many lookout points, and taking a stroll through the 50,000 glass stems of Bruce Munro's spectacular Field of Light. 
Kristin Howden
Chief Legal & Compliance Officer
Kristin Howden joined Voyages as Group General Counsel in October 2018, also taking on the role of Company Secretary. She has more than 15 years' experience in top-tier law firms and in-house in large and medium-sized listed and private corporations, in sectors ranging across hospitality, hotels, property development and management, infrastructure, and native title. 
Kristin has always worked in complex commercial environments and is passionate about the Voyages vision and mission, business resource and service development, corporate governance and risk management, and implementing quality and compliance frameworks across the organisation to help achieve organisational goals and exceptional customer experiences. Kristin is also Company Secretary of the Anangu Communities Foundation. 
In addition to the unique proposition offered by Voyages, Kristin loves the cultural experiences that guests can enjoy when they visit – and the people who welcome visitors to these incredible places. She also appreciates the National Indigenous Training Academy, whose bespoke, market-leading Indigenous training and employment strategy is sustainably delivered across all operations, tying the business to its sense of place and history. 
Kristin is moved by the energy and majesty of Uluru and Kata Tjuta, but also recommends the Ngadiku Dreamtime Walk at Mossman Gorge, where guests are led by a local Indigenous guide while learning about traditional plant use, bush foods, and the unique tropical environment.