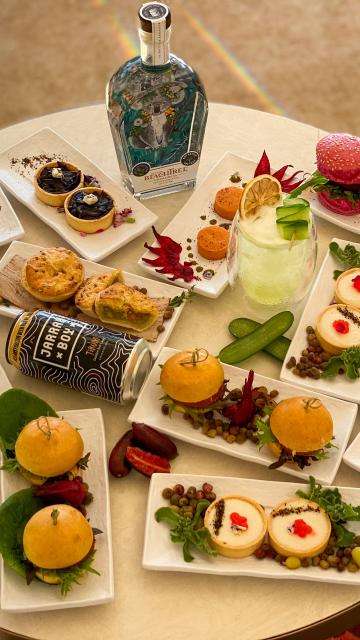 New Wintjiri Wiru experience highlights native Australian produce
Voyages Indigenous Tourism Australia works with Indigenous suppliers to create exciting menus for Wintjiri Wiru
20 April 2023
Native Australian produce and Indigenous bush foods will be the heroes of the culinary experience of Wintjiri Wiru, the soon to be launched drone, sound and laser light show at Ayers Rock Resort.
From lemon aspen and wattleseeds to quandong, warrigal greens and lemon myrtle – the menu for Wintjiri Wiru is set to be an authentic celebration of native Australian ingredients combined with modern culinary techniques that match the exciting drama of the new experience.
Launching at Uluru in May, Wintijiri Wiru will use drones, light and sound to tell a chapter of the Mala story between Kaltukatjara (Docker River) and Mutitjulu.
Voyages consulted with Indigenous culinary experts to create an authentic food and beverage experience at Wintjiri Wiru showcasing Australia's finest produce from Indigenous and Australian-owned suppliers.
Indigenous chef Mark Olive, known globally for his unique style and television shows The Outback Café, A Chefs Line and On Country Kitchen, has been working closely with Ayers Rock Resort chefs and suppliers to craft menus that showcase native Australian flavours.
"There is a growing interest from both Australian and international travellers to try native bush foods so I am truly excited by this opportunity to create a menu in collaboration with the Voyages team which heroes these amazing ingredients and will be enjoyed under the stars while watching Wintjiri Wiru," said Olive.
Dishes will be paired with premium Australian wines from Penfolds as well as wines, beers and spirits from suppliers that are either wholly Indigenous-owned or who have been Supply Nation Certified. These include gin producer Beachtree Distilling Company, Jarrah Boy and Sobah breweries and Yaru Water.
Matthew Cameron Smith, CEO of Voyages Indigenous Tourism Australia, said "It was critical to us that we worked with a range of Indigenous suppliers who would not only provide high quality culinary experiences to our guests but would also benefit from supporting this new story telling initiative."
"Cultural sustainability is a key priority for us at Voyages and we are excited to be delivering on this commitment through the development of Wintjiri Wiru" added Cameron-Smith."
There will be two nightly performances of Wintjiri Wiru – the three-hour Sunset Dinner and the 1.5 hour After Dark show. Both performances will take place atop an environmentally sustainable, purpose-built platform "floating" above the desert.
When guests arrive for the Sunset Dinner performance, they will be treated to a selection of canapes and cocktails served by team members keen to share their knowledge of the native ingredients.
While sipping on a Cucumber Cooler or an Spiced Apple Tonic – both featuring Indigenous-owned Beachtree organic Koala Gin - guests will also be able to drink in the incredible views of Uluru and Kata Tjuta.
Canape selections will include tasty bites such as gin-infused cucumber with green ants and celery salt, and blackened mountain pepper beef fillet on a truffle slider brioche.
There's also thoughtful options to cater to all dietary requirements including sweet potato and warrigal greens flan and braised beetroot on a pink bun.
Once guests have taken their seats in the open-air desert theatre, they will then embark on the next stage of their culinary adventure with native antipasti platters served in a dinner hamper. The menu will offer exciting combinations including smoked emu with a saltbush chilli crust and an Indigenous twist on a Waldorf salad with cooked prawns, native celery, quandong, apple, walnuts and wattleseeds.
For the After Dark show, wattleseed caramel popcorn will be served alongside refreshing gelatos featuring native ingredients.
The Wintjiri Wiru Sunset Dinner experience includes return resort transfers and is priced at AUD$385pp. The After Dark experience is AUD$190pp.
For more information go to: www.ayersrockresort.com.au or call 1300 134 044.
Voyages Indigenous Tourism Australia acknowledges continuing Anangu connection to land, water, sky, culture and community and pays respect to Anangu communities and Elders and welcomes the opportunity to celebrate Anangu culture through the Wintjiri Wiru experience.
Anangu have one of the oldest living continuous cultures in the world and have been the custodians of this Country and its many stories, keeping them strong, since the beginning of time.

Specific food and beverages Images are available at: https://bit.ly/3ops3h6
About Voyages Indigenous Tourism Australia:
Voyages Indigenous Tourism Australia is a wholly-owned subsidiary of the Indigenous Land and Sea Corporation (ILSC) established to undertake tourism business on its behalf. Voyages offers unique experiences and cultural immersion in spectacular locations around Australia including Ayers Rock Resort in the Northern Territory and the Mossman Gorge Cultural Centre in Tropical North Queensland. Voyages works closely with local communities, respecting and supporting Indigenous culture and offering employment, training and business development opportunities to Aboriginal and Torres Strait Islanders.
About Wintjiri Wiru:
Designed and produced by world-renowned Media Architecture studio RAMUS for Voyages Indigenous Tourism Australia, the Wintjiri Wiru experience will illuminate the Central Desert with a spectacle of lights, projections and lasers shining on the spinifex and mulga, connecting the earth and sky to offer an expansive experience of light and sound in the presence of Uluru.
The depth of the story is revealed when more than 1,000 luminous drones take flight each night to lift the ancient images to the sky. Through exquisite choreography and visual artistry, the drones depict aspects of the Mala story from Kaltukatjara (Docker River) to Mutitjulu, accompanied by a narration in Pitjantjatjara and Yankunytjatjara languages, and a soundtrack with traditional inma recorded with members of the local Anangu community.
Visitors will be able to view the show on a sustainably built platform atop a desert dune with stunning panoramic views of both Uluru and Kata Tjuta nestled on the horizon. Artwork from local Anangu artist and community member, Christine Brumby, has been cut into elements of the architectural steel separating the various seating levels of the platform and backlit for maximum impact.
About RAMUS:
RAMUS studio is led by Canadian-born light artist Bruce Ramus who has spent decades designing and producing light spectaculars around the world. Based in Melbourne, Australia Bruce has assembled a multi-disciplinary team to conceive and deliver permanent and temporary light artworks for commercial and government property developments, sports and entertainment, local council, retail and tourism.
For further information:
Jill Collins | [email protected] | 0417 654 474
Natalie Brown | [email protected] | 0422 565 001