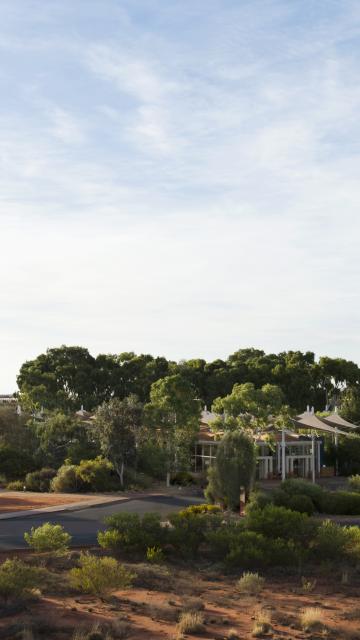 2017 MAJOR EVENTS AT AYERS ROCK RESORT
Monday, 19 September 2016
2017 is set to be another sensational year for major events at Ayers Rock Resort. Led by the monumental art phenomenon Bruce Munro's Field of Light, Uluru, guests will also enjoy popular annual events such as the Tjungu Indigenous Cultural Festival, the Uluru Camel Cup, the Australian Outback Marathon and the Uluru Astronomy Weekend. The Australian Chamber Orchestra will also return to the spiritual heart of Australia for a series of intimate concerts led by Richard Tognetti, following the success of the inaugural 2015 event.
Bruce Munro's Field of Light, Uluru: open until 31 March 2017
The critically acclaimed and not-to-be-missed Field of Light, Uluru has been created in its largest form to date at Ayers Rock Resort – a dazzling solar-powered installation illuminating a remote desert area within sight of majestic Uluru.
Tjungu Indigenous Cultural Festival: 22-25 April 2017
Celebrating the best of Australian Indigenous culture, the Tjungu Festival was a sell-out success in its third year and returns by popular demand. Tjungu, (pronounced tjoo-ngoo), means meeting together in local Anangu language and the 2017 event will see returning artists and ambassadors joined by emerging and established Indigenous performers, sporting heroes and artists, with this year's focus on even more local performers from the Anangu people and surrounding lands. Highlights include an Anangu welcome to country, lively markets showcasing Indigenous art and bush tucker, a short film festival, Indigenous fashion parade, traditional and contemporary Indigenous musicians and bands and the "Tastes of Tjungu" outdoor desert dining experience hosted by a celebrity chef.
Desert Dreaming Yoga Retreat: 22-28 April 2017
Yoga instructor Denby Sheather will return to host an intimate week of yoga, meditation and cultural immersion, held in the revitalising surrounds of Ayers Rock Resort and Uluru-Kata Tjuta National Park. As well as yoga and spiritual awareness classes, guests will enjoy activities with Indigenous artists, a memorable desert dining experience under the stars and the opportunity to experience the Tjungu Indigenous Cultural Festival.
Uluru Camel Cup: 26-27 May 2017
Join the locals for a true Aussie outback-style experience. Now in its fifth year, the Uluru Camel Cup festivities begin at the atmospheric Outback Pioneer Hotel and Bar with the opportunity to bid on a favourite camel in the Uluru Camel Cup Calcutta and enjoy live entertainment. The Uluru Camel Cup races include the popular Fashions on the Field, Outback BBQ, fun activities for the whole family to enjoy and the weekend culminates with a true blue outback style ball, set under the sparkling night sky.
ACO Uluru Festival: 2-4 June 2017
Following a triumphant inaugural concert program at Ayers Rock Resort in 2015, the Australian Chamber Orchestra (ACO) will return to perform a series of exclusive concerts led by artistic director Richard Tognetti. Limited to a maximum of 400 guests, the performances will take place in the intimacy of the Uluru Meeting Place. The festival program will feature three sublime concerts designed to harmonise with the intrinsic spirit of the location's unique surrounds, and will be complemented by memorable dining events, and uniquely tailored tours.
Australian Outback Marathon: 29 July 2017
Set amongst one of the most iconic backdrops in the world, the Australian Outback Marathon is now in its 8th year and welcomes entrants from all over the world who pound the red dust while enjoying spectacular views of Uluru and Kata Tjuta. Race organiser and sports tour operator, Travelling Fit, has designed the event to be enjoyed by all levels of running ability, offering four different events - a full marathon, half marathon and two fun runs.
Uluru Wellness Retreat: 8-14 September 2017
This transformational weekend, hosted by popular life change facilitator Peter Bliss, will empower participants to manage their emotions and master their mind with practical mindfulness workshops, silence survival strategies, intuition and intention tips, magical Qigong workshops, and guided meditations to enhance their lives. Set in the spiritual surrounds of Ayers Rock Resort and Uluru Kata-Tjuta National Park, this memorable and reinvigorating weekend will include a nutritious and nourishing food program, plus an option to enjoy a desert dining experience under the stars.
Uluru Astronomy Weekend: 20-22 October 2017
Astronomy enthusiasts of all ages can discover the spectacular Australian outback sky at this popular event. Now in its fourth year, the weekend is run in partnership with the Centre of Excellence for All-sky Astrophysics (CAASTRO) and hosted by leading astronomers. The enlightening stargazing event includes fun family activities and demonstrations; engaging discussions on energetic cosmic events, the structure of the Universe, dark matter and more, and an exclusive Astronomical Sounds of Silence experience.
Andrew Williams, Voyages Indigenous Tourism Australia's Chief Executive Officer, commented: "Our major events are always popular and we are delighted to present such an extensive line-up for 2017. From Indigenous cultural activities, immersive art installations and fun quintessentially Australian outback activities to spiritual health and stargazing, there is something to appeal to all type of traveller."
For more information go to: ayersrockresort.com.au or call 1300 134 044.