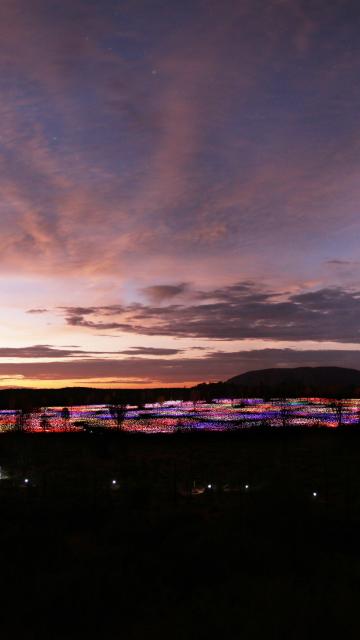 2018 MAJOR EVENTS FOR AYERS ROCK RESORT
Thursday, 12 October 2017
A spectacular line-up of major events is taking place at Ayers Rock Resort throughout 2018. From the globally-acclaimed art installation Field of Light Uluru and the Australian Outback Marathon to the vibrant Tjungu Indigenous Cultural Festival and Uluru Feastival, celebrating native Australian flavours, these special events give yet another dimension to your Uluru experience.
Bruce Munro's Field of Light Uluru: every night until 31 March 2018
The critically acclaimed and not-to-be-missed Field of Light Uluru is now in its second season. The dazzling solar-powered installation is the creation of British artist Bruce Munro and illuminates a remote desert area within sight of majestic Uluru.
Uluru Feastival: 9-10 March 2018
This quarterly culinary event celebrates Australia's native flavours as part of Ayers Rock Resort's Bush Tucker Journeys. The gastronomic weekend showcases Indigenous food and culture and includes open air fine dining and traditional bush tucker tastings, as well as a signature masterclass and a three-course tasting dinner under the stars with Bush Tucker Journeys' Ambassador and Indigenous celebrity chef Mark Olive.
Tjungu Festival: 26-29 April 2018
Celebrating the best of Australian Indigenous culture, Tjungu (pronounced tjoo-ngoo) means meeting together in local Anangu language and the 2018 event will see returning artists and ambassadors joined by emerging and established Indigenous performers, sporting heroes and artists. Highlights include an Anangu welcome to country, lively markets showcasing Indigenous art and bush tucker, an Indigenous fashion parade, Indigenous musicians and bands and the "Tastes of Tjungu" outdoor desert dining experience hosted by a celebrity chef.
Uluru Camel Cup: 25-26 May 2018
Join the locals for a true Aussie outback-style experience. Now in its sixth year, the Uluru Camel Cup festivities begin at the atmospheric Outback Pioneer Hotel and Bar with the opportunity to bid on a favourite camel in the Uluru Camel Cup Calcutta and enjoy live entertainment. The Uluru Camel Cup races include the popular Fashions on the Field, Outback BBQ, fun activities for the whole family to enjoy and the weekend culminates with a true blue outback style ball, set under the sparkling night sky.
Australian Outback Marathon: 28 July 2018
Set amongst one of the most iconic backdrops in the world, the Australian Outback Marathon is now in its 9th year and entrants from all over the world will once again pound the red dust while enjoying spectacular views of Uluru and Kata Tjuta. Race organiser and sports tour operator, Travelling Fit, has designed the event for all levels of running ability, with a full marathon, half marathon and two fun runs taking place.
Uluru Wellness Retreat: 7-13 September 2018
This transformational weekend, hosted by popular life change facilitator Peter Bliss, empowers participants to manage their emotions and master their mind with practical mindfulness workshops, silence survival strategies, intuition and intention tips, Qigong workshops, and guided meditations to enhance their lives. Set in the spiritual surrounds of Ayers Rock Resort and Uluru-Kata Tjuta National Park, this reinvigorating weekend includes a nutritious and nourishing food program and a Field of Light Star Pass.
Uluru Astronomy Weekend: 14-16 September 2018
Astronomy enthusiasts of all ages can discover the spectacular Australian outback sky at this popular event run in partnership with the new ARC Centre of Excellence for All Sky Astrophysics in 3 Dimensions (ASTRO 3D) and hosted by prominent astronomers. Now in its fifth year, the enlightening stargazing weekend includes fun family activities and demonstrations, astro-photography and engaging discussions on cosmic events, the structure of the Universe, dark matter, Aboriginal astronomy and navigation, how the universe began and much more.
For more information go to: https://www.ayersrockresort.com.au/meetings-events or 1300 134 044.