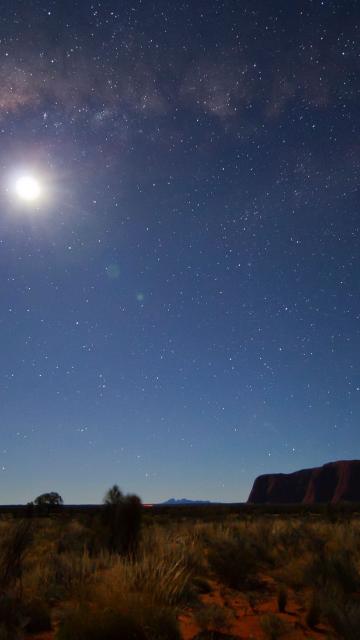 ASTRONOMER-IN-RESIDENCE PROGRAM
Thursday, 05 June 2014
Ayers Rock Resort, in partnership with the Australian Research Council Centre of Excellence for All-sky Astrophysics (CAASTRO), are delighted to announce a new Astronomer-in-Residence program commencing Saturday 7 June through to Friday 7 November, 2014.

Free to all guests staying at Ayers Rock Resort, a series of Astronomy information sessions will be held at the Resort's Town Square between 12:30pm and 2:30pm every Tuesday, Thursday, Friday, Saturday and Sunday. The resident Astronomer will entertain and engage guests in discussions about the stars, planets, cosmos, galaxy and the Big Bang theory.

The resident Astronomer will engage with the existing on-site Star Talk Team to impart knowledge and enhance existing guest experiences for activities including Sounds of Silence, Tali Wiru and Outback Sky Journeys so that guests will benefit long after the program is complete.

"We are delighted to announce our new Astronomer-in-Residence program which will further enhance the guest experience at the Resort by enlightening those already familiar with astronomy or those new to studying the wonder of the cosmos," said Ray Stone, Voyages Executive General Manager Sales Marketing and Distribution.

"The spiritual heart of Australia also offers one of the best vantage points in the world to explore the galaxy with its low humidity and minimal light pollution - ideal conditions for Astronomy enthusiasts. We encourage all our guests to come along and meet with our Resort's resident Astronomer," said Ray.

Ayers Rock Resort will also hold an Uluru Astronomy Weekend, in partnership with CAASTRO from Friday 22 to Sunday 24 August 2014, hosted by popular scientific personality Dr Karl Kruszelnicki.
Event highlights include "Stellar Sounds of Silence", a bush tucker inspired dining experience with a special tour of the outback night sky with Dr Karl, as well as an interactive lunch for astronomy enthusiasts "Panel Predictions" which provides a platform to ask all those burning questions, and a glamorous Studio 54 inspired Galaxy Star Ball.

For more information, visit ayersrockresort.com.au or call 1300 134 044.