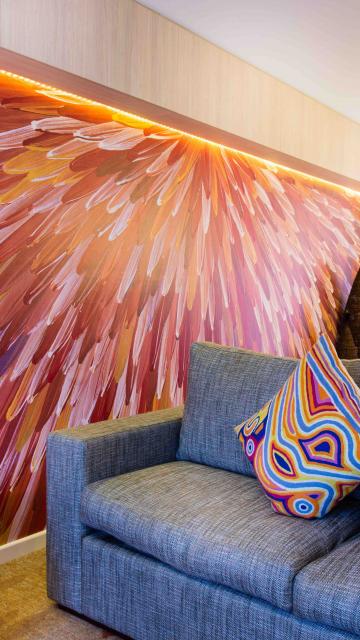 AYERS ROCK RESORT LAUNCHES A COMPLETE REFURBISHMENT OF EMU WALK APARTMENTS
Thursday, 12 March 2015
Ayers Rock Resort's self-contained accommodation, the Emu Walk Apartments, has been elevated to a new level of sophistication with the completion of a total refurbishment in a modern Indigenous-inspired design.
The renovation features the charm of Australia's Red Centre with Indigenous design elements showcased throughout the well-equipped separate kitchen, living and bedroom areas. Images of native flora are featured in the carpet while Indigenous designs are woven into cushions displayed throughout the apartment.
An enormous reproduction of an artwork by regional Indigenous artist Japanangka or Raymond Walters looks over an open dining area and fully-equipped kitchen, transforms an ordinary dinner into an extraordinary reminder of this unique destination.
The new sophistication of the Emu Walk Apartments further adds to the rejuvenation of Ayers Rock Resort and the total refurbishment of the 5-star Sails in the Desert hotel and new Uluru Meeting Place conference facility which opened in November 2012.
This significant further capital investment of just over $7 million demonstrates Voyages' commitment to ensuring that Ayers Rock Resort offers a complete range of quality accommodation that meets our guests needs now and into the future", said Voyages Chief Executive Officer Andrew Williams.
All 63 apartments have undergone a total internal refurbishment, with 40 one-bedroom and 23 two-bedroom apartments, all offering fully-equipped kitchens, laundry with washer/dryer and a separate dining and living area ideal for families or larger groups.
Emu Walk Apartments are always very popular with families as well as couples or friends travelling together and we know that this investment into the property will be very well received," said Ray Stone, Voyages Executive General Manager Sales, Marketing and Distribution.
A new Reception space has also been designed which will improve the overall guest experience, allowing for an easier and quicker check-in and check-out process.
The Emu Walk Apartments are centrally located to dining and touring opportunities across the Resort and right next to the hub of the Resort, Town Square, featuring a mini supermarket and specialty shops.
To celebrate the transformation of the Emu Walk Apartments, guests receive a special souvenir Ayers Rock Resort backpack with every new booking made between 01 April and 30 June 2015.
3 Night Uluru Package
From $360* per person twin share
Includes 3 nights accommodation in a renovated 1-bedroom apartment, buffet breakfast daily, return airport transfers, free indigenous activities program and children 15 years and under stay free using existing bedding.
*Conditions apply. Book and travel 01 April 2015 until 30 June 2015.
For further information or to make a booking go to ayersrockresort.com.au/accommodation/emu-walk-apartments
For bookings contact [email protected] or 1300 134 044.