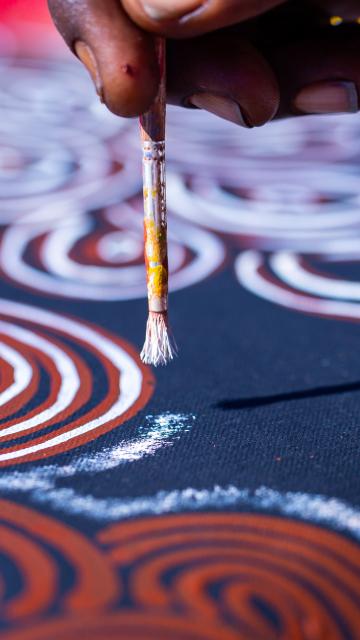 AYERS ROCK RESORT SHOWCASES INDIGENOUS ART AND CRAFTS
Friday, 24 June 2016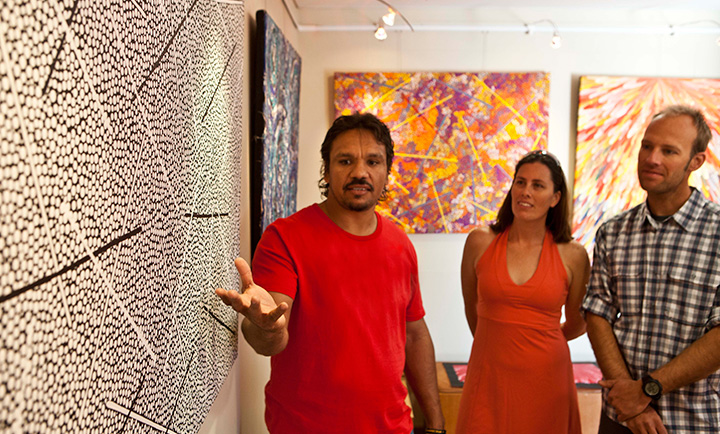 In the coming months, Ayers Rock Resort will feature a fascinating line-up of Indigenous Australian and Australian artists as part of its popular Artist-in-Residence program. Each month, the highly successful program features an artist and craftsperson to create art in situ at the Resort, as well as to exhibit and sell their work.
The line-up of artists for the rest of 2016 includes sought-after Indigenous artist Raymond Walters Japanangka, who will be in residence at Wintjiri Arts & Museum throughout September, and up and coming artists from the Indigenous art communities of Yuendumu and Utopia (1 July-31 August), and Ninuku (1-30 November).
Mingkiri Arts and Craftworks, located near Desert Gardens Hotel, will feature a regular Craftsperson-in-Residence, including jeweler Suzette Watkins (15 June-30 July), whose work is inspired by the Australian landscape, colours and light; Patrick Ferguson (1-15 September), who creates stunning punu (wood) artifacts, and well-known silk artist Heather Duff (1-31 December). A Glass of Fire jewelry workshop is also on offer from 15 September-15 October.
"Our Artist-in-Residence program is a unique opportunity for guests to engage with these talented artists and provide meaningful connections with Indigenous art whilst enhancing their understanding of Indigenous culture," said Andrew Williams, Chief Executive Officer for Voyages Indigenous Tourism Australia.
The art offering at Ayers Rock Resort is further enhanced by its momentous light art installation, Bruce Munro's Field of Light Uluru, which has recently opened to worldwide acclaim. The giant solar powered artwork made up of 50,000 frosted glass spheres is open until 31 March 2017, with entry priced from $35 per adult.
Original Central Australian Indigenous art can be viewed and purchased at Ayers Rock Resort's Wintjiri Arts & Museum near Emu Walk Apartments; Mingkiri Arts and Craftworks; the resort's acclaimed Mulgara Gallery located at Sails in the Desert Hotel, and at the Indigenous Art Market at the Resort Town Square.
For further information go to www.ayersrockresort.com.au
For bookings contact [email protected] or 1300 134 044.