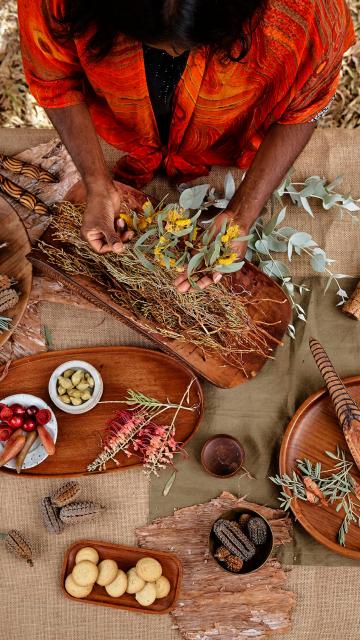 BUSH TUCKER JOURNEYS LAUNCHES AT AYERS ROCK RESORT
Wednesday, 10 May 2017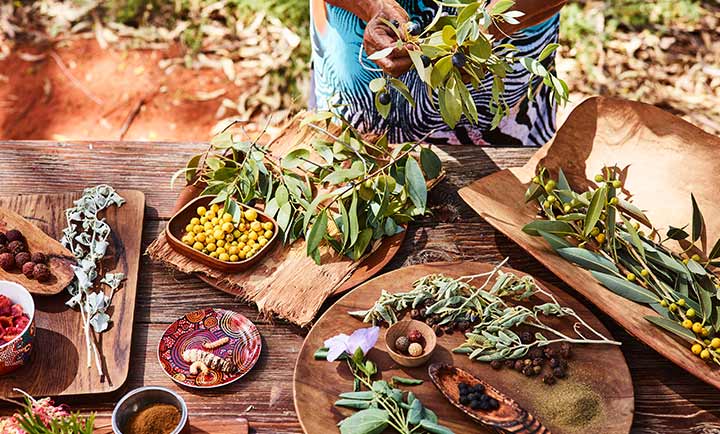 Ayers Rock Resort is delighted to announce the launch of Bush Tucker Journeys, the most comprehensive program of native flavour experiences and tastings celebrating Indigenous food and culture in Australia today.
'Bush tucker' is the Australian term for the huge variety of native herbs, spices, fruits, seeds, insects and wildlife that Indigenous Australians have been eating for tens of thousands of years. To most non-Indigenous people the plants are a mystery, the ancient cooking methods unconventional and they are at a loss as to how to incorporate these ingredients into everyday cooking.
The program launches officially on 10 May with the inaugural Uluru Feastival Tasting Dinner, presented by Bush Tucker Journeys ambassador Mark Olive. Guests will dine under stars and enjoy a menu designed by Mark in conjunction with the Executive Chefs at Resort, creating a unique experience in the heart of the Australian Desert.
"Located in the spiritual heart of Australia, and home to the world's oldest living culture, this is arguably the best place in Australia to experience its unique and rich native flavours", said Andrew Williams, Voyages Chief Executive Officer.
Ayers Rock Resort's Bush Tucker Journeys program brings these ancient flavours into modern cuisine – it influences every dining experience, cementing Ayers Rock Resort's place as the Bush Tucker capital of Australia. The key elements of the program are:
A new free daily Bush Food Experience where guests learn about native Australian ingredients, ancient food preparation techniques and a demonstration of how these ingredients can be used in modern cooking as they learn to make wattle seed shortbread.
Each of the Resort's 10 restaurants now feature menus that celebrate bountiful bush ingredients. From the humble croc-dog at Outback Pioneer's BBQ Bar to the perfectly succulent Indigenous herb crusted steak at Desert Gardens Hotel's more sophisticated Arnguli restaurant – there are endless options to discover new tastes.
The ancient flavours take centre stage at each of Uluru's under the night sky dining experiences. Taste dukkah seared kangaroo loin on quandong cous cous with native mint yoghurt at the magical A Night at Field of Light or try house-smoked crocodile on mini dampers with desert lime preserve at the award-winning Sounds of Silence.
The pinnacle of the outdoor dining experiences is Tali Wiru; the open air gastronomic experience offers a magical evening of fine dining on a remote sand dune overlooking Uluru limited to just 20 people per evening. This season's menu features canapes such as pan seared scallop with gulgulk beurre noisette or smoked kangaroo and kutjera crostini, entrees including pressed wallaby with fermented quandong. Mains include pan roasted toothfish with carrot and ginger puree, baby heirloom carrots, sea greens, spiced activated lentils and candied lemon aspen. To finish, desserts on offer are textures of chocolate with Davidson plum, lemon myrtle and quandong.
The celebration of food and culture culminates with Uluru Feastival, a quarterly weekend culinary event celebrating Australia's native flavours. From open air fine dining to traditional bush tucker tastings and master classes, every culinary experience will combine local Indigenous culture with Indigenous inspired outback fare. This year the Uluru Feastival Weekends will be held on 18-20 August and 3-5 November.
Guests can learn about native food gathering daily– with Bush Yarns explaining the skills of the hunter, or learn the gatherers ways on one of the Garden Walks, as they explain how Indigenous people traditionally lived by using the bush for food and medicinal purposes, both daily free to guests.
A wide range of bush tucker ingredients are available for sale at the Resort so that guests are able to take home the unique tastes of Australia and incorporate them into their daily cooking.
The appetite amongst today's travellers for truly authentic experiences is seemingly insatiable and bush tucker is such a wonderfully engaging way of helping to tell Australia's rich Indigenous story", said Tourism Australia CEO John O'Sullivan. "It's also extremely timely, off the back of our recent hosting of The World's 50 Best Restaurants when so many of the world's top chefs commented specifically on the unique appeal of Australia's native ingredients, which this exciting program is all about," he said.
For further information visit: www.ayersrockresort.com.au/bushtuckerjourneys
For bookings contact [email protected] or 1300 134 044.