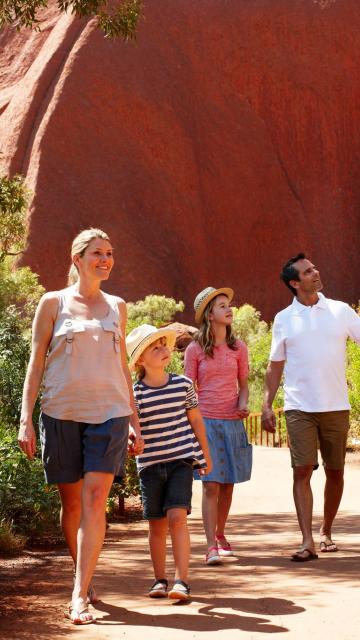 FABULOUS NEW WAYS TO EXPLORE ULURU
Thursday, 27 June 2017
Travellers to the spiritual heart of Australia now have even more choices to experience Uluru and its surrounds. Five new tours join the existing options to experience the destination and will appeal to gastronomes, adventure seekers and wildlife enthusiasts, offering a new perspective on this iconic destination.
This quarterly culinary event celebrates Australia's native flavours as part of Ayers Rock Resort's Bush Tucker Journeys. The gastronomic weekend showcases Indigenous food and culture and includes open air fine dining and traditional bush tucker tastings, as well as a signature masterclass and a three-course tasting dinner under the stars with Bush Tucker Journeys' Ambassador and Indigenous celebrity chef Mark Olive. Upcoming Uluru Feastival Weekends are on 18-20 August and 3-5 November 2017. From $285 per person.
2. Uluru Segway
Tours This fun and exhilarating tour takes in the full 10km base of Uluru by segway. Small groups of up to 12 people try their hand at riding the segway, taking in Uluru-Kata Tjuta National Park's unique flora, fauna and rock art as they cruise along. A guide leads the way, sharing stories of the Anangu people, their culture and way of life. From $119 per person.
The family-friendly show introduces some of the amazing species that survive and roam in the harsh environment of the Red Desert of Central Australia, home to 73 types of reptile. Participants will get up close, touch and hold some of the reptiles including Bruce the blue tongue lizard (Lungkata), Wolverine the bearded dragon (Ngapala), Max the Mulga also known as a king brown (Liru) and a Woma Python (Kunlya). From $25 per person.
SEIT's new Uluru Billy Tea & Tjukurpa tour offers uninterrupted views of the desert surrounds from a customised double-decker coach. Guests will learn about the local Anangu culture and the Tjukurpa (creation stories) of the Mala people on a guided walk to Kantju Gorge. Further around the base of Uluru, a delicious outback style morning tea is served on the top deck, followed by a visit to the Uluru Cultural Centre. From $165 per person.
Part of Ayers Rock Resort's Bush Tucker Journeys program bringing ancient flavours into modern cuisine, this free daily Bush Food Experience teaches guests about native Australian ingredients including plants, fruits, grains and spices and how for centuries these bush foods were used by Indigenous people. Guests will discover ancient food preparation techniques and enjoy a demonstration of how these ingredients can be used in modern cooking as they learn to make wattle seed shortbread. Free for guests at Ayers Rock Resort.
For further information visit: www.ayersrockresort.com.au
For bookings contact [email protected] or 1300 134 044.