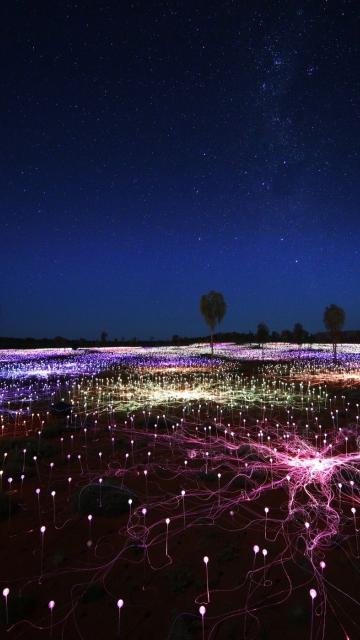 FIELD OF LIGHT COMING TO ULURU
Wednesday, 23 September 2015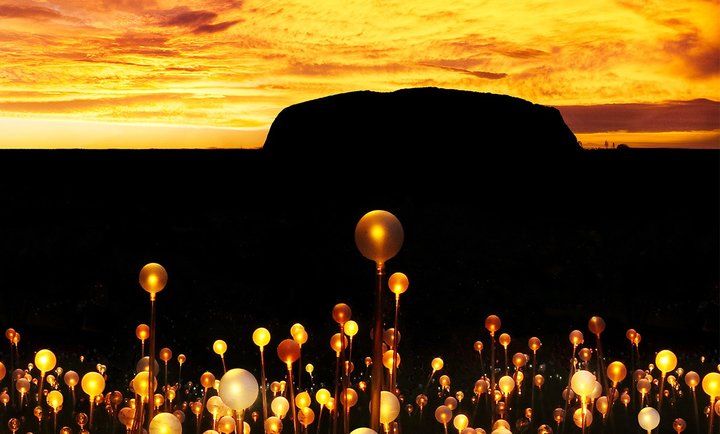 Voyages is delighted to announce that the monumental art phenomenon, Bruce Munro's Field of Light, will be created in its largest form to date at Ayers Rock Resort in the spiritual heart of Australia. The solar-powered installation will open on 1 April 2016, remaining open throughout the Red Centre's distinct seasons until 31 March 2017.
This ambitious exhibition forms part of Ayers Rock Resort's commitment to arts and culture, which includes staging once-in-a-lifetime experiences and will illuminate a remote desert area within sight of majestic Uluru.
"There is no doubt that this presents an absolutely unique opportunity for guests to enjoy not only the spiritual nature of the destination, but experience it in a unique and mesmerizing way," said Voyages Executive General manager Sales, Marketing and Distribution Ray Stone.
Bruce Munro conceived the idea for the Field of Light while visiting Uluru in 1992, but it wasn't until 2004 that the installation first materialized at both London's Victoria & Albert Museum and in Munro's own backyard in south-west England. Field of Light has since dazzled visitors at sites across the United Kingdom, the United States and Mexico.
"Field of Light was one idea that landed in my sketchbook and kept on nagging at me to be done," said Bruce. "I saw in my mind a landscape of illuminated stems that, like the dormant seed in a dry desert, quietly wait until darkness falls, under a blazing blanket of southern stars, to bloom with gentle rhythms of light," he said. "Field of Light is a personal symbol for the good things in life."
In keeping with the desert's vast scale, Munro and his team will install more than 50,000 slender stems crowned with radiant frosted-glass spheres. The coloured spheres, connected via illuminated optical fibre, will bloom as darkness falls over Australia's spiritual heartland. Pathways will draw viewers into the installation, which will come to life under a sky brilliant with stars.
According to the Huffington Post,"It can be hard to describe in words the gifts that Munro bestows on the landscape as his work escapes description in either written or photographic form, it is something to be experienced."
"Logistics for a project such as this are immense, and we are fortunate to have the expertise of Qantas, the official airline partner of the Field of Light, who are transporting the 50,000 unique stems of light all the way from the Bruce Munro workshop in the UK directly to Ayers Rock Airport", said Ray.
Tourism Australia Managing Director, John O'Sullivan, said hosting an exhibition of this type would reinforce the accessibility of Australia's Indigenous offering and highlight the breadth of uniquely Australian events available to visitors.
"One of our biggest challenges faced in marketing Australia overseas is creating that sense of urgency to travel and then finding ways to encourage those visitors to disperse beyond our capital city gateways. With this event, I think the Voyages team have found a way to do both. This is an exhibition of true international significance and provides that all important 'new news' for visitors to put Uluru on their 'must do' list," he said.
Guests at Ayers Rock Resort's five properties will be invited to interact with Munro's monumental experiential artwork in one of three ways:
The entry-level Field of Light Pass ($35) includes return bus transfers to the remote site and time to experience the artwork
The Field of Light Star Pass ($75) includes the above, along with sparkling wine and canapes at an elevated viewing area at the end of the evening
The 4.5-hour A Night at Field of Light ($235) includes an introduction to the artwork by a host, sparkling wine and canapes at sunset from an elevated viewing area, extended time to immerse in the installation and a three-course buffet dinner showcasing bush tucker ingredients as well as return bus transfers. There is also an option to arrive by camel or helicopter for this experience.
For more information on the Field of Light at Uluru go to: ayersrockresort.com.au/experiences/field-of-light-landing