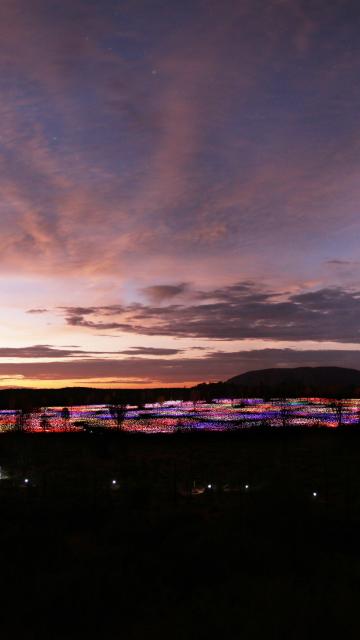 Successful Field of Light Uluru Shines on in 2020
Monday, 26 March 2018
Internationally acclaimed artist Bruce Munro's immersive installation, Field of Light Uluru has been extended for a further period and will now remain in place until 31 December 2020.

The award-winning exhibition, located at Ayers Rock Resort in the spiritual heart of Australia, opened on 1 April 2016 to critical acclaim, and has since exceeded all expectations proving to be a stand-out drawcard to the destination.

"With such incredible demand, and high occupancy experienced throughout the year at the Resort, extending the Field of Light to 31 December 2020 will allow even more guests to enjoy this extraordinary experience," said Voyages Executive General Manager Sales, Marketing and Distribution, Ray Stone.

"Since opening, more than 200,000 guests have been deeply moved by the Field of Light, it's hard not to be. This further extension offers guests the opportunity to enjoy not only the spiritual nature of the destination, but experience it in a unique and mesmerising way," said Ray.

The exhibition, aptly named Tili Wiru Tjuta Nyakutjaku or 'looking at lots of beautiful lights' in local Pitjantjatjara, is Munro's largest work to date, with more than 50,000 slender stems crowned with radiant frosted-glass spheres over an area the size of nine football fields. These individually hand-crafted stems, weighing a total 15 tonnes, travelled more than 19,000 kilometres on 32 international and domestic Qantas Group flights in early 2016 before arriving in Alice Springs.
It is also the artist's first work to be illuminated entirely through solar power. The spheres, connected via illuminated optical fibre, bloom as darkness falls. Pathways draw viewers into the artwork, which comes to life under a sky brilliant with stars.

Tourism Australia MD, John O'Sullivan welcomed the decision to extend the exhibition until the end of December 2020. "Field of Light has been a remarkable success and there's clearly still significant demand amongst people both here in Australia and overseas to make the journey to Uluru to see what is unquestionably one of world's most spectacular and immersive exhibitions. People travel to experience difference and this is about as unique a way of connecting with one of our country's most spectacular natural wonders as you're ever likely to get," he said.

The award-winning exhibition has received extensive media attention during its two seasons, significantly featuring in 2017's Qantas Safety Video with over 90 million views worldwide.

"I am greatly moved and humbled by the enormous response to the artwork. It's obvious the combination of the exhibition and a canvas as visceral as this – flourishing from red dirt and tufts of spinifex, in the shadows of nature's biggest shape-shifter, Uluru, is immensely powerful to people," said Bruce.
Voyages is also pleased to announce an extension to the work Bruce Munro's Light Shower at Sails in the Desert Hotel. Continuing the focus on art at Ayers Rock Resort, Qantas Group and Voyages have again joined forces to bring another site specific light installation piece to Uluru. Light Shower, a sculptural cascading artwork created by Bruce Munro, consisting of delicate shimmering points of light, will adorn the lobby of Sails in the Desert from March 2018.
Bruce Munro said: "The inspiration to create a light shower for Sails in the Desert at Uluru came to me as naturally as the original inspiration in 2008 when I was invited to propose some alternative lighting designs for a contemporary highland lodge at the head of Loch Ossian in Scotland.
"In March 2016 I found myself sitting in the lobby area of Sails gazing at the infinity reflections created by the interior lighting in the entrance at night. Beyond the glass facades there was a milky way to be seen like I had never seen before. Pondering the sky, the idea of stars and raindrops dancing together, Sails in the Desert Light Shower is a simple installation that captures that fleeting thought, that moment.
"Like the original installation, Light Shower will hang motionless in the canopy of the entrance as if suspended in time. By day the artwork catches glimpses of natural light. By night it morphs into what it is, a shower of light dancing in harmony with the stars."
Guests can enjoy the field in a number of ways – a Field of Light Pass includes transfers, a Star Pass includes transfers as well as sparkling wine and canapes, and for those wanting a special evening under the stars there is A Night at Field of Light dining experience that includes transfers and guests can also arrive via helicopter or camel for an additional charge. Between 22 October and 24 March each year, guests can also enjoy Mayu Wiru, meaning 'beautiful flavour' in local Pitjantjatjara. This premium experience for a maximum of 16 guests combines an exceptional gourmet menu celebrating the ancient flavours of Indigenous Australia with a private escorted tour through Field of Light.
Pre-booking Field of Light experiences before arrival is strongly recommended. The Qantas Group offers direct services to Uluru from Sydney, Melbourne, Cairns and via Alice Springs from most Australian capital cities. Book at Qantas.com
For further information visit: ayersrockresort.com.au/experiences/field-of-light
For bookings contact [email protected] or 1300 134 044.