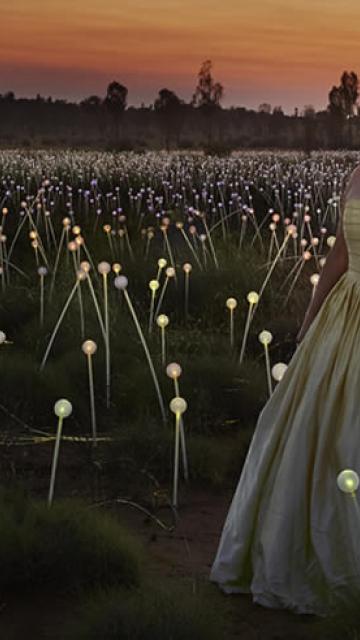 First Ever Opera Australia Performance at Uluru
Wednesday, 06 March 2019
Voyages Indigenous Tourism Australia is delighted to announce that for the first time ever Opera Australia will perform an exclusive concert in the spiritual heart of Australia with Uluru-Kata Tjuta National Park and Bruce Munro's Field of Light Uluru as the backdrop. This once-in-a-lifetime opportunity to absorb some of the world's finest music, marrying sublime art with a uniquely Australian setting, will be held under the stars on Saturday 2 November 2019.

During the concert, some of Opera Australia's finest singers will perform famous arias from Bizet, Puccini, Rossini, Verdi and more, accompanied by a chamber orchestra and conducted by Tahu Matheson. As the sun sets over the desert backdrop, the evening will be illuminated by the spellbinding colours of Field of Light Uluru's 50,000 glass spheres.

"Opera Australia is honoured to be presenting our first ever performance at Australia's spiritual centre, on the sacred lands surrounding Uluru. I was so profoundly moved when I first visited - moved by a sense of awe, and spirituality that is palpable, and by the raw beauty of the landscape," said Opera Australia Artistic Director Lyndon Terracini.

"I knew then that we had an opportunity to create something extraordinary if we could perform in such an incredible atmosphere. It's absolutely thrilling that we've been able to team up with Voyages to bring that dream to life," said Lyndon.

This one-off event also offers a totally unique way to experience the global art phenomenon Field of Light Uluru. Since opening at Ayers Rock Resort in 2016, Bruce Munro's immersive artwork has dazzled visitors from all over the world and its run has been extended to the end of 2020.

Grant Hunt, CEO of Voyages, commented: "This extraordinary performance will be a true feast for the senses, combining one of the most iconic Australian landscapes at sunset with Opera Australia's awe-inspiring music and the magic of Field of Light Uluru."

"We know that our guests are drawn time and again to the magic of Uluru, and that they want to engage in a range of experiences that allow them to gain a deeper enjoyment of the destination, which is why we have worked hard to enable Opera Australia to perform here in the heart of Australia," said Grant.
The Opera at Uluru program will feature:

ROSSINI 'Largo al factotum' from The Barber of Seville
BIZET 'Habanera' from Carmen
BIZET Toreador Song from Carmen
BIZET 'Au fond du temple saint' from The Pearlfishers
PUCCINI 'Vissi d'arte' from Tosca
PUCCINI 'E lucevan le stelle' from Tosca
DELIBES Flower Duet from Lakmé
PUCCINI 'Nessun dorma' from Turandot"

Performers will include:
Natalie Aroyan
Lorina Gore
Angela Hogan
Diego Torre
Haotian Qi
Conducted by Tahu Matheson
Hosted by Lyndon Terracini

Packages start from $750 per person twin share and include two nights' accommodation at Ayers Rock Resort, breakfast daily, return airport transfers and a ticket to the Opera at Uluru performance.

To enhance their weekend experience guests can also choose to take part in two celebratory dining experiences:

The Opera at Uluru Welcome Dinner on Friday 1 November will include champagne and canapés, followed by a sumptuous three course dinner inspired by the Tali Wiru signature dining experience showcasing bush tucker ingredients paired with premium wines. Guests will enjoy an aria from an Opera Australia performer and members of Opera Australia will also be dining with guests. $289 per person.

The Opera at Uluru Starlit Dinner on Sunday 3 November will be held on a remote dune-top under the night sky and feature a three-course menu of contemporary, native bush tucker-inspired cuisine, an Indigenous cultural performance and a star talk. $265 per person.

For more information go to: www.ayersrockresort.com.au/OA or 1300 134 044.