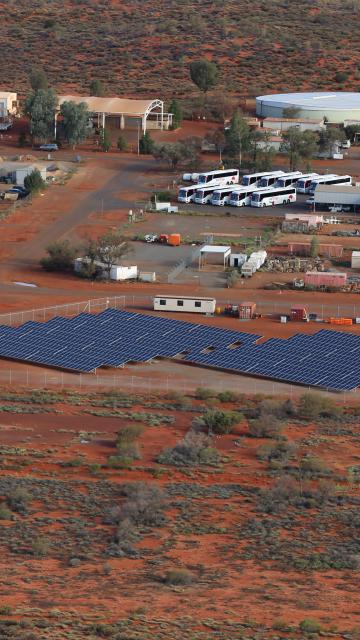 Jetstar Connects Brisbane and Uluru Directly for the First Time
Friday, 03 August 2018
The first direct flight between Brisbane and Uluru (Ayers Rock Resort) took off this morning, with Jetstar's new service between the two destinations saving customers at least six hours on their journey.
The three-per-week service will be operated by a Jetstar Airbus A320 aircraft, bringing up to 28,000 additional travellers to the Northern Territory each year.
Celebrating with an event at the Uluru-Kata Tjuta National Park, Jetstar Group Executive Manager, Alan McIntyre said the new flights showed Jetstar's commitment to helping grow tourism in the Northern Territory.
"Tourism in the Northern Territory is booming, particularly from Queensland where travellers from the sunshine state grew by almost twenty per cent last year."
"Today's inaugural flight was fully booked and we are seeing strong forward bookings, particularly from families and international travellers connecting from Brisbane."
"With a flight time of just three-hours, it's clear that this service is going to be very popular and we're excited to be the first and only airline to operate the direct route."
Northern Territory Minister for Tourism and Culture, The Hon. Lauren Moss MLA, congratulated Jetstar on the new service.
"I applaud Jetstar on this new three-per-week service, which demonstrates the airline's confidence in the Territory's tourism industry."
"This new flight comes off the back of the Territory Government's recent $103 million Turbocharging Tourism initiative and is another major win under this important economic stimulus program."
Voyages Executive General Manager, Sales, Marketing and Distribution, Ray Stone welcomed the new direct link.
"We greatly value our outstanding relationship with Jetstar and the Qantas Group and are extremely pleased that Jetstar have launched this route supporting a major domestic market as well as connections from Brisbane to international destinations."
The new flights from Brisbane are in addition to Jetstar's direct flights to Uluru from Melbourne and Sydney, and will see Jetstar offering a total of 257,000 seats to the Northern Territory every year.
Flights from Brisbane to Uluru are available in Jetstar.com from $179 one way.*