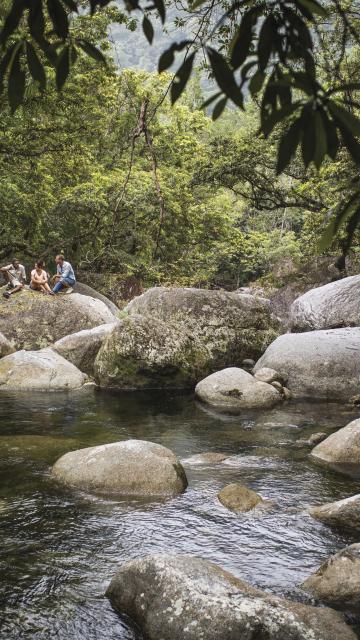 Mossman Gorge Centre Re-Opens
Tuesday, 21 July 2020
Award-winning, Mossman Gorge Centre, the Indigenous eco-tourism development which acts as a gateway to the Mossman Gorge World Heritage site in Far North Queensland, has re-opened to visitors following a four-month closure.

The decision to close the Centre in March was made following consultation with the Mossman Gorge community, represented by Bamanga Bubu Ngadimunku Aboriginal Corporation (BBNAC), to protect the health and wellbeing of the local Indigenous community and staff at the Centre.

The Centre provides visitor information, showcases the art and craft of the local Kuku Yalanji community in the on-site art gallery and retail store, houses the Mayi café serving a menu of locally sourced produce with a focus on native ingredients and facilitates shuttle bus transport to the Gorge.

Guest are being encouraged to utilise the shuttle facilities to continue to respect and protect the local community. Screens at the Centre are providing this message from Uncle Roy Gibson, local Elder, "The Yalanji people welcome you to our Bubu Mossman Gorge. We want to share our culture and country with you, but we are afraid of this virus. We have many people who are vulnerable, especially our Elders. Please respect our wishes and do not walk through the community to the Gorge. Please use the shuttle bus for your and our safety."

Uncle Roy is the visionary behind the founding of the Centre, the training school and the Dreamtime Gorge Walk which gives visitors a deeper understanding of the Daintree Forest and provides employment opportunities for the local community. The Dreamtime Walks are still on hold temporarily but Welcome to Country and a cultural demonstration will take place onsite daily.

In preparation for the re-opening, Mossman Gorge Centre has worked closely with the local community and Queensland Health to develop an extensive COVID safe plan. In addition to the requirements around using the shuttle to the Gorge and the temporary postponement of the Dreamtime Walks to limit interaction with the local community, this plan includes the following:

All guests to the Centre will complete a mandatory symptom screening questionnaire and declaration prior to their visit. There is a designated isolation area for anyone who exhibits symptoms of feeling unwell.
Strict social distancing guidelines including capacity reductions at the Centre and on the shuttle bus.
Extensive cleaning, sanitation and hygiene protocols.
Comprehensive staff training on health, safety and new procedures including the appointment of COVID champions.
Enhanced food preparation standards at the Mayi Café with mandatory Personal Protective Equipment requirements for employees. Please note a reduced menu offering will be offered on re-opening.
Detailed signage advising visitors and staff of all the new procedures.


For further information visit www.mossmangorge.com.au