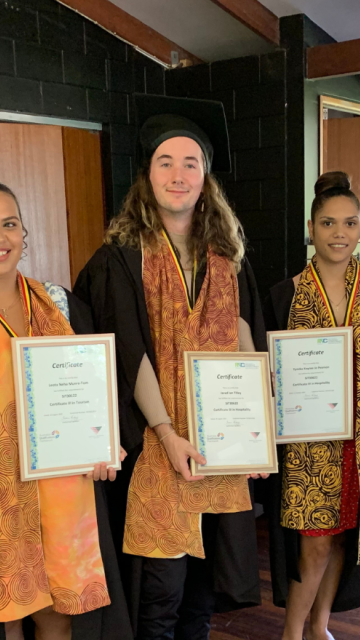 Mossman Gorge Cultural Centre Celebrates 2023 Hospitality and Tourism Graduates
2 November 2023
Queensland hospitality and tourism ventures are benefitting from an injection of bright new talent, with Voyages' Mossman Gorge Cultural Centre celebrating the 2023 graduates of its National Indigenous Training Academy (NITA) programs this month.
NITA delivers world-class training and employment programs in hospitality and tourism for young Aboriginal and Torres Strait Islanders at its Mossman Gorge and Ayers Rock Resort sites.
The four newest graduates completed qualifications in a range of areas - including Food and Beverage and Tour Guiding - and have already been snapped up for positions at companies such as Back Country Bliss and Mossman Gorge Cultural Centre.
Guests who attended the intimate High Hills Farm Restaurant included Douglas Shire Council Mayor, Michael Kerr; CEO of Far North Training Consultancy, Toni Day; Back Country Bliss representative, Michelle Nobes; Mossman Gorge Cultural Centre's General Manager, Rachael Hodges; and the dedicated NITA training and residential team, as well as family and friends of graduates.
"We're immensely proud of this year's NITA graduates and can't wait to see what they achieve next," says Matthew Cameron-Smith, CEO of Voyages Indigenous Tourism Australia. "Over 60% of our Mossman workforce is Indigenous and it's our hope for these training programs to contribute to Indigenous training and employment nationwide."
For more information or to enrol visit NITA | National Indigenous Training Academy.