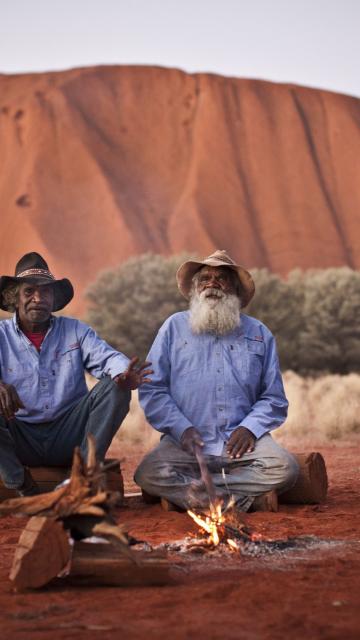 Mutitjulu Foundation becomes Anangu Communities Foundation
Thursday, 22 August 2019

The name change, which came into effect on 1 July 2019, was made following consultation with key stakeholders to widen the foundation focus from a single community to a more regionally focused foundation.

"The Anangu Communities Foundation focus is to support local Anangu communities in the areas of health, education and economic prosperity," said Grant Hunt, Voyages Indigenous Tourism CEO.

"Through adopting a regional engagement approach, we will work with Anangu communities to identify emerging projects and opportunities, and strive to assist Anangu communities through raising and providing funds to bring these projects to life," Grant said.
Key projects planned for the current year include:
Funds to support a remote dialysis clinic to enable renal patients to return home and receive treatment closer to their families, community and on their country.
Funds to support the Watarrka Sports & Story Telling Festival in Lilla Community near Kings Canyon.
The purchase, installation and connection of a new community laundry in Mutitjulu.
Support for the Emerging Leaders Program, which delivered formal leadership, governance and professional development training to young Anangu leaders from across the Ngaanyatjarra, Pitjantjatjara Yankunytjatjara (NPY) Lands.
Producing Anangu Histories – funding to support Anangu communities to make historical resources available for young Anangu and communities and also for non- Anangu to access quality/authentic material documenting Anangu information and perspectives.
Funding provided to deliver community school holiday programs in Mutitjulu over the school holidays.
Two-way Science Project – funding provided to design and implement a two-way science project rooted in linking education to culturally appropriate land management techniques, and will support building confidence of students in both their education and culture.
"We are always looking at new projects to support that align with the core values of the Foundation and are keen to hear from any community members who may have a project for consideration", said Anangu Communities Foundation Manager, Debbie Morgan-Frail.
The Foundation raises funds through donations by guests of Ayers Rock Resort which are matched by Voyages up to $200,000 annually as well as private donations. In addition regular fundraising events are held, the largest is the Annual Progressive Dinner throughout Ayers Rock Resort– this year to be held on 12 October 2019.

We also work with corporate sponsors as well as individual donations, which can be tailored to suit a particular project and are tax deductible.