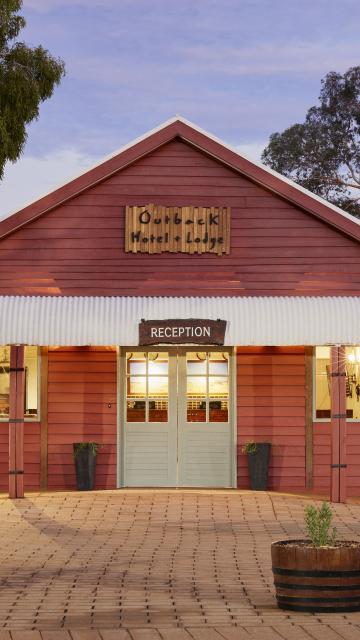 New-look Outback Hotel and Lodge re-opens at Ayers Rock Resort
20 March 2023
Voyages Indigenous Tourism Australia has re-opened the Outback Hotel and Lodge at Ayers Rock Resort following a multi-million-dollar refurbishment giving travellers to this popular tourism destination increased accommodation options.
Previously known as the Outback Pioneer Hotel, the new-look accommodation has been given a new name and a complete refurbishment – the first in more than 20 years – with enhanced guest rooms, new ensuite bathrooms and a major upgrade to the swimming pool and surrounding public areas.
The upgrades also include new furniture and all the soft furnishings - bed and bathroom linen, new carpets and curtains - which reflect the earthy tones of the Uluru landscape with warm reds, ochres and pinks.
The guest rooms at the Outback Hotel also now feature large prints from Indigenous artist Delma Forbes, based on her original artwork Ngura-Country, which is inspired by the desert landscape and its ancient landforms, bush and vibrant colours.
Matthew Cameron-Smith, CEO of Voyages Indigenous Tourism Australia said "We are delighted to welcome visitors back to our new-look Outback Hotel and Lodge. This hotel has always had a warm, welcoming atmosphere and is the place to come after a day's touring at Uluru to share stories over a cold drink and a BBQ. We're really excited with the repositioning and can't wait to welcome back families, backpackers and groups of travellers."
The full refurbishment to all 125 guest rooms at the Outback Hotel also includes free Wi-Fi, air-conditioning, walk-in rain showers and new bedding configurations.
Perfect for families and groups, most of the rooms now have two queen-sized beds with interconnecting rooms also available.
A range of new electronics complete the latest offering including smart TVs, key-card entry, fridges and USB chargers.
In the 46-room Outback Lodge, the former Budget Rooms have been reconfigured into Family Lodge Rooms with one queen bed and one bunk bed.
The Outback Lodge is also home to a variety of dormitory rooms and configurations, perfect for travellers on a budget.
Dining options at the Outback Hotel and Lodge include the Bough House, Outback Kiosk and Outback BBQ and Bar, where guests can cook their own Australian BBQ with their preferred cut of meat or fish including steaks, kangaroo, emu sausages or barramundi.
Kids under 12 eat free at the Outback BBQ and Bough House for dinner. Children under five eat for free at the Bough House buffet breakfast.
Guests staying at the Outback Hotel and Lodge also have access to all the facilities at Ayers Rock Resort including touring, restaurants and the Gallery of Central Australia.
A stay at the Outback Hotel and Lodge includes a free Indigenous Activities Program, return Ayers Rock Airport transfers and use of the complimentary Ayers Rock Resort shuttle bus service.
A Standard Guest Room at the Outback Hotel starts from $300 per room, per night, with a two-night minimum stay. A Family Lodge Room with ensuite starts at $260 per night, with a one-night minimum night stay.
For more information go to: www.ayersrockresort.com.au or call 1300 134 044.
For further information:
Jill Collins
[email protected]
0417 654 474
Images are available at www.voyages.com.au/presscentre
Voyages Indigenous Tourism Australia acknowledges continuing Anangu connection to land, water, sky, culture and community and pays respect to Anangu communities and Elders and welcomes the opportunity to celebrate Anangu culture.
About Voyages Indigenous Tourism Australia:
Voyages Indigenous Tourism Australia is a wholly-owned subsidiary of the Indigenous Land and Sea Corporation (ILSC) established to undertake tourism business on its behalf. Voyages offers unique experiences and cultural immersion in spectacular locations around Australia including Ayers Rock Resort in the Northern Territory and the Mossman Gorge Cultural Centre in Tropical North Queensland. Voyages works closely with local communities, respecting and supporting Indigenous culture and offering employment, training and business development opportunities to Aboriginal and Torres Strait Islanders.