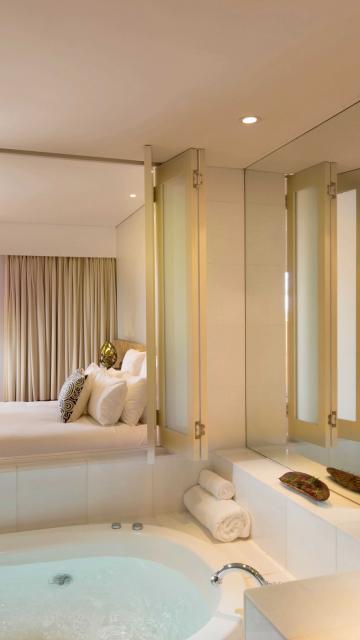 HM AWARD FOR BEST UPSCALE HOTEL
Wednesday, 09 September 2015
Voyages Ayers Rock Resort's premium 5-star Sails in the Desert hotel won best 'Upscale Hotel' at the 2015 HM Awards, held at Sydney Town Hall on Friday evening. The Awards, now in their 13th year, are a celebration of the Australasian accommodation industry's highest achievers.
As part of a complete rejuvenation of the destination, Sails in the Desert was elevated to a new level of luxury in November 2012, following a $38m refurbishment, including a new conference facility. The dynamic refurbishment brought the colours, textures and stories of this enigmatic cultural landscape to life in a design statement of inspired elegance. Against a canvas of neutral tones and textures, the mystery, colour and wisdom of the local Anangu people is interwoven into every facet of Sails in the Desert's modern design.
Voyage CEO Andrew Williams praised the entire team at Sails in the Desert hotel for being awarded such an achievement.
"Voyages Indigenous Tourism Australia has significantly invested into upgrading Sails in the Desert hotel as part of a complete rejuvenation of the destination, resulting in a modern five star hotel and that's clearly what the judges of the HM Awards this year also thought.
"We are delighted to be recognized for our unique product offering among a high calibre of finalists. The team at Sails in the Desert hotel should be proud of such a fantastic achievement," said Andrew.
Sails in the Desert hotel features 228 luxury rooms and suites, soaring sails and vast architectural spaces, an expansive gumtree lined and heated swimming pool, world class dining, bar and lounge options and an extensive collection of Indigenous artworks which all work together to connect, in a particularly expressive way, to the magic of the landscape. Guests can select from a wide range of authentic Indigenous experiences, discover the passion behind Aboriginal art at Sails in the Desert's Mulgara Gallery, or indulge in complete relaxation with one of the Red Ochre Spa's luxurious package treatments.
All rooms feature ensuite bathrooms, choice of king or queen sized 'Ahh' Beds (luxury bedding), private balcony, terrace or verandah, air-conditioning, heating, mini bar, refrigerator, LCD HD TV with free to air channels, radio and pay per view movies, ISD/STD phone, 24 hour in room dining service, hair dryer, in-room safe, tea/coffee making facilities, high speed cable internet and Wi-Fi, luxury bathrobes, and a nightly turndown service.
For more information about Sails in the Desert hotel visit, www.ayersrockresort.com.au