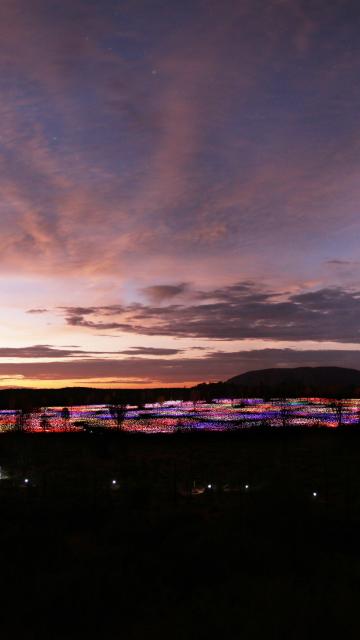 SUCCESSFUL FIELD OF LIGHT ULURU SHINES ON
Tuesday, 09 May 2017
Internationally acclaimed artist Bruce Munro's immersive installation, Field of Light Uluru has commenced its second season and will now continue to delight guests until 31 March 2018. The award-winning exhibition, located at Ayers Rock Resort in the spiritual heart of Australia, opened to critical acclaim and has exceeded all expectations, proving to be a stand-out drawcard to the destination.

"With such incredible demand, and high occupancy experienced throughout the year at the Resort, we expect Field of Light Uluru Season II to build on the success of the first season, and continue to enjoy sell-out success," said Voyages Executive General Manager Sales, Marketing and Distribution, Ray Stone.

"Since opening, almost 120,000 guests have been deeply moved by the Field of Light, it's hard not to be. The extension offers an extraordinary opportunity for guests to enjoy not only the spiritual nature of the destination, but experience it in a unique and mesmerising way," said Ray.

The exhibition, aptly named Tili Wiru Tjuta Nyakutjaku or 'looking at lots of beautiful lights' in local Pitjantjatjara is Munro's largest work to date, with more than 50,000 slender stems crowned with radiant frosted-glass spheres over an area the size of four football fields. It is also the artist's first work to be illuminated entirely through solar power. The spheres, connected via illuminated optical fibre, bloom as darkness falls. Pathways draw viewers into the artwork, which comes to life under a sky brilliant with stars.

"For anyone fortunate enough to have walked amongst those 50,000 magical illuminated stems, Field of Light Uluru undoubtedly qualifies as one of the most amazing exhibitions in Australia today. It's proven to be a real drawcard for domestic and international visitors, and with the extensive and deserved global exposure it's received this year, I have little doubt that the second season will be hugely successful," said Tourism Australia's CEO John O'Sullivan.

"Field of Light was one idea that landed in my sketchbook and kept on nagging at me to be done," said artist Bruce Munro. "I saw in my mind a landscape of illuminated stems that, like dormant seeds in a dry desert, quietly wait until darkness falls, under a blazing blanket of southern stars, to bloom with gentle rhythms of light".

"I am greatly moved and humbled by the enormous response to the artwork. It's obvious the combination of the exhibition and a canvas as visceral as this – flourishing from red dirt and tufts of spinifex, in the shadows of nature's biggest shape-shifter, Uluru, is immensely powerful to people," said Bruce.

To celebrate the launch of the second season local artists Pamela Taylor and Beryl De Rose have created a painting, Tili Tjuta, meaning 'many lights' inspired by the Field of Light Uluru. The painting introduces a new story, now depicted on canvas, about the Field of Light creation, underneath a beautiful desert night sky where each night the stars show 'Tjurkurpa' (creation stories). The artists were inspired by colour, particularly the changing colours of the landscape as the sun set and the way that the evening enhanced the colours.

On seeing the artwork for the first time, Bruce commented,"The painting makes perfect sense, it looks just like I felt when I first visited Uluru. Simply said the Field of Light is an expression of connection and that is what is depicted here," said Bruce.

Official airline partner, the Qantas Group, transported the stems, weighing in total approximately 15 tonnes, more than 19,000 kilometers (11,800 miles) over 32 international and domestic flights to Australia, the farthest a piece of Munro's artwork has travelled to an exhibition.

Executive Manager Qantas Freight and Qantas Catering Group, Alison Webster said Qantas has a long history of supporting the Arts and is proud to be part of this project. "We are thrilled, as Australia's national carrier, to be involved in this unique project which quite literally shines a spotlight on one of the most breathtaking and special places in the world, Uluru," she said.

Guests can enjoy the field in a number of ways – a Field of Light Pass includes transfers, a Star Pass includes transfers as well as sparkling wine and canapes, and for those wanting a special evening under the stars there is A Night at Field of Light dining experience that includes transfers and guests can also arrive via helicopter or camel for an additional charge. Pre-booking Field of Light experiences before arrival is strongly recommended.
For further information visit: www.ayersrockresort.com.au/fieldoflight
For bookings contact [email protected] or 1300 134 044.