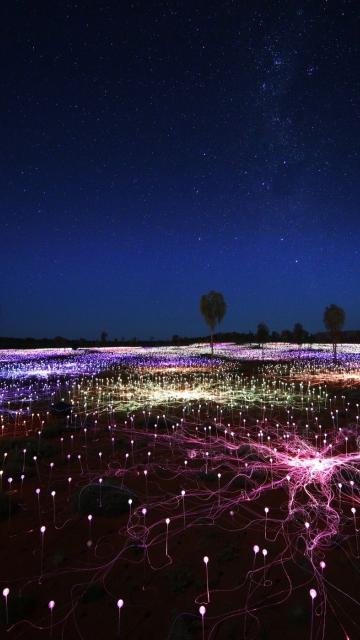 Successful Field of Light Uluru to Extend Its Stay
Thursday, 26 September 2019
Ongoing demand for new Friend of Australia Bruce Munro's immersive installation, Field of Light Uluru has led to the exhibition being extended indefinitely from its previous close date of 31 December 2020. The award-winning exhibition, located at Ayers Rock Resort in the spiritual heart of Australia, opened on 1 April 2016 to critical acclaim and has proven to be a stand-out drawcard to the destination, attracting more than 450,000 visitors to date.

"Field of Light Uluru allows people to experience the destination in a way that is unexpected and we are still seeing incredible demand, with guests noting that the installation is a key element of their stay. Travellers are increasingly seeking experiences that transcend the superficial, that offer meaning, surprise and add great depth to the memory bank. Extending Field of Light Uluru will allow even more visitors to enjoy this extraordinary immersive artwork," said Voyages CEO Grant Hunt.

"Today marks one month until the Uluru Climb closure, and we know that the Field of Light is an enduring way for guests to enjoy the destination," said Grant.

To ensure that the experience is kept at a premium into the future a $1million refurbishment of the installation overseen by the artist has just been completed. Each individual stem of light and all the fibre optic cabling was replaced ensuring the vibrancy will remain in place.

"I am truly honoured that the Field of Light will remain at Uluru. The ancient landscape of the Red Centre continues to inspire my thoughts, feelings and ideas that shape my life and work," said Bruce Munro.

Australia's Minister for Tourism Simon Birmingham welcomed the decision to extend the astounding Field of Light Uluru exhibition which covers an impressive 62,500 square meters in the Northern Territory.

"Beyond the natural wonder that is Uluru, this unique experience is a major reason why thousands of domestic and international tourists continue to flock to the Northern Territory each year," Minister Birmingham said.

"It is great to see that this successful and beautiful exhibition will remain a major visitor drawcard and I congratulate Bruce Munro and Ayers Rock Resort on their continued contribution to Uluru's future tourism sustainment."

The exhibition, aptly named Tili Wiru Tjuta Nyakutjaku or 'looking at lots of beautiful lights' in local Pitjantjatjara, is made up of more than 50,000 slender stems crowned with radiant frosted-glass spheres over an area the size of nine football fields.

Field of Light Uluru was Bruce Munro's first work to be illuminated entirely through solar power. The spheres, connected via illuminated optical fibre, bloom as darkness falls. Pathways draw viewers into the artwork, which comes to life under a sky brilliant with stars.

Field of Light Uluru has inspired other Bruce Munro iterations across Australia including Field of Light Albany and Bruce Munro's Tropical Light which will run in Darwin from November 2019 to April 2020.

Field of Light Uluru will be the setting for an exclusive Opera Australia concert under the stars on Saturday 2 November 2019. This first ever Opera Australia performance at Uluru will marry sublime art with a uniquely Australian setting.

Each evening guests can enjoy Field of Light Uluru in a number of ways – a Field of Light Pass includes transfers, a Star Pass includes transfers as well as sparkling wine and canapes, and for those wanting a special evening under the stars there is A Night at Field of Light dining experience that includes transfers and guests can also arrive via helicopter or camel for an additional charge. Each morning before sunrise AAT Kings operates Field of Light Sunrise. Bookings prior to arrival at the Resort are strongly recommended.
ABOUT BRUCE MUNRO
Bruce Munro is noted for his immersive site-specific installations that employ light to evoke emotional response. Born in London in 1959, he completed a B.A. in Fine Arts at Bristol in 1982. Shortly thereafter he moved to Sydney where he took up employment in design and lighting, inspired by Australia's natural light and landscape. His work has been shown at the Victoria & Albert Museum, London; Waddesdon Manor, the Rothschild Collection, Buckinghamshire, and the Guggenheim Museum, New York. It is held in museum collections internationally including the Ashmolean Museum, Oxford. www.brucemunro.co.uk