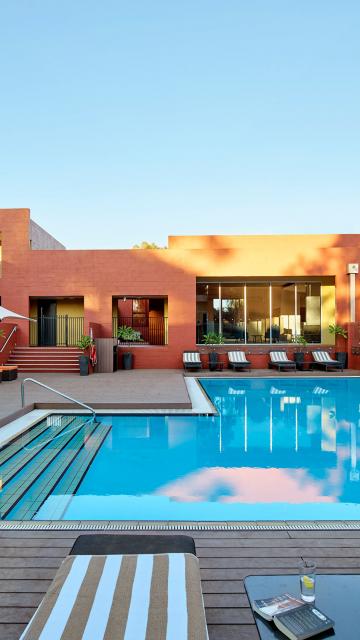 THE LOST CAMEL RETURNS TO AYERS ROCK RESORT
Thursday, 24 May 2018
The Lost Camel hotel, featuring contemporary studio-style rooms, will re-open at Ayers Rock Resort on 1 July 2018, creating one of the Resort's most unique and surprisingly edgy accommodation options for guests enjoying a break in the Spiritual heart of Australia.
The Lost Camel hotel originally opened at Ayers Rock in 2002, closing to become staff housing in 2012, and has now once again been re-invigorated to provide much-needed guest accommodation as the region has surged in popularity in recent years.
Furnished in a stylish mix of Aboriginal and urban themes, The Lost Camel brings a fresh dynamic to extensive range of accommodation options at Ayers Rock Resort. The hotel enjoys a central swimming pool and is located adjacent the Resort Town Square giving guests a wide variety of dining options.
"We are sure that The Lost Camel's modern design and contemporary feel is going to quickly make it a popular choice for guests to the Resort", commented Voyages Executive General Manager, Sales, Marketing and Distribution, Ray Stone.
To mark the re-opening, Voyages' commissioned the design of a contemporary logo to celebrate uniqueness of The Lost Camel in its setting in the living cultural landscape of Uluru. The logo (attached) combines an ancient painting technique with modern design, the result is a vibrant symbol based on the original artistic work 'Kapi Tjukurla' (Waterhole Story) painted by senior Mutitjulu artist Julie Brumby. Brumby has painted a vibrant depiction of her beloved desert landscape, in it the many rolling sand dunes and waterholes. The lines represent the patterns that can be seen in the land - 'tali' sand dunes, and concentric circles linked by lines represent waterholes and river courses or the traveling and resting places of Creation Ancestors and Anangu. The logo mark (with its bold injection of colour and patterns) represents the country of The Lost Camel as it roams the Australian Outback from waterhole to waterhole.
The Lost Camel is the perfect place to rest between Outback adventures for visitors to Uluru. It joins other accommodation options at the Resort - the luxury Sails in the Desert Hotel, the newly renovated Desert Gardens Hotel, contemporary Emu Walk Apartments, the authentic Outback Pioneer Hotel and Lodge and the Ayers Rock Resort Campground.
To celebrate the re-opening Voyages is offering a special Uluru Short Break including 3 nights from $435 per person twin share including return airport transfers, in-room Wi-Fi, free daily guest activities and free use of the resort shuttle service. Book by 10 June 20118 and travel 1 July to 30 November 2018. For further information visit: www.ayersrockresort.com.au. For bookings contact [email protected] or 1300 134 044.