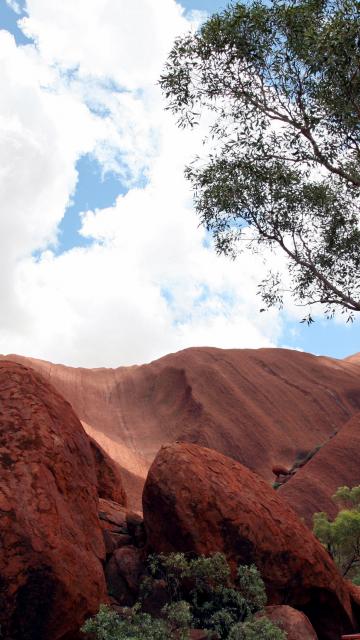 The Secret Heart of the Red Centre Revealed
Thursday, 11 October 2018
While Uluru, the Spiritual Heart of Australia, is undeniably the main attraction for visitors heading to Australia's Red Centre, just down the road there is another rock formation that is taller, wider and, arguably, even more impressive than the famous monolith. Although it may be lesser-known, Kata Tjuta, also known as The Olgas, has such a presence that it becomes a highlight of many visits to the Red Centre and the secret is fast getting out.

"Uluru as a destination has never been so hot and there has been a huge leap in visitation in recent years. Feedback that we are receiving from our guests is that although Kata Tjuta is not top of mind when planning a visit to the Red Centre, it is often a highlight once experienced – the destination's undiscovered secret", said Grant Hunt, CEO of Voyages Indigenous Tourism Australia.

To help spread the word Voyages is delighted to release first ever drone footage of Kata Tjuta which was filmed with special permission from Traditional Owners and in conjunction with the Uluru Kata Tjuta National Park. The footage goes some way to un-mask the mystery of this spectacular and sacred landmark and can be viewed here.

Consisting of 36 boulders spread over more than 20km (12.5 miles), Kata Tjuta's highest dome rises 546m (1791ft) above the plains, some 200m higher than Uluru. But this formidable sight is also a sacred one under Tjukurpa (the religion, law and moral system of the local Aboriginal Anangu people), and this is why cultural stories are unknown and photos of it are relatively rare.

Like Uluru, Kata Tjuta is arguably at its most spectacular at sunrise and sunset when the colour of the boulders changes, often even appearing to glow. The best places to take in the sight are the Kata Tjuta Dune viewing area at dawn and the Sunset viewing area – with Uluru 30km away in the background – at dusk.

To get a true understanding of its size and beauty, many people take one of the tours available to journey within the formation and enjoy the experience Kata Tjuta's valleys and gorges first hand.

The 2.6km Walpa Gorge Walk takes you between the sheer walls of the gorge's two tallest domes, along a rocky creek bed, past rare plants and gum trees. As you walk, listen out for the sound of the wind hissing through the chasms for which the gorge is named. Walpa means "wind" in the local Indigenous dialect. At 7.6km the Valley of the Winds trek is much longer, but is arguably a more immersive experience. The full circuit takes around three to four hours, but it's possible to walk shorter sections of the track.
For more information on Kata Tjuta tour options, visit www.ayersrockresort.com.au