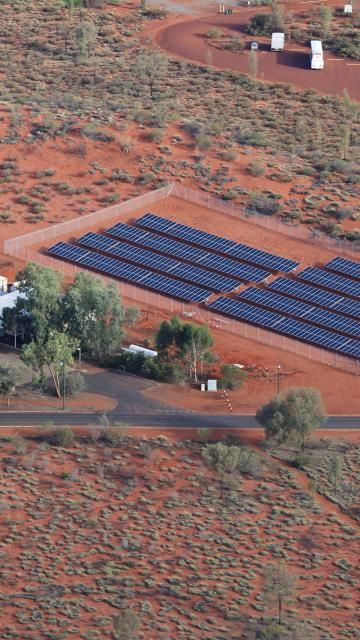 TJINTU SOLAR FIELD COMMENCES
Monday, 21 March 2016
Voyages Indigenous Tourism Australia is delighted to announce the installation of a major new solar energy system at Ayers Rock Resort that will generate power to cover up to 30 per cent of the Resort's peak use, or about 15 per cent of its average energy use, reducing the reliance on fossil fuels.
The 1.8MW solar system, named Tjintu meaning 'sun' in local Pitjantjatjara, is a photovoltaic (PV) system that is spread across five separate locations around Ayers Rock Resort, ranging in size from 100 kilowatts to 1 megawatt. The entire array will consist of 5,770 modules, each of which measure 1.6m x 1m. The modules are made of glass, aluminium and silicon solar cells.
"Tjintu is a project that makes absolute sense for Ayers Rock Resort from many angles. As Uluru becomes ever more popular as a holiday destination, energy demands at the Resort are also growing and the Tjintu project will ensure we manage the growth of the resort in an environmentally sustainable way," said Voyages CEO Andrew Williams.
The project also makes economic sense as we will reduce the cost of our power at the same time as reducing reliance on fossil fuels. There couldn't be a better location for a solar field harnessing the energy of the sun than in the heart of Australia's Red Centre," said Andrew.
Voyages has worked closely with key partners CAT Projects, ARENA, CEFC and Epuron to fund and develop the Tjintu project.
Epuron will provide the solar energy supply under a lease agreement with Voyages. While the Resort will be involved in the day-to-day operations, Epuron will oversee the maintenance of the installed solar panels.
Find out more by reading the Tjintu Solar Field booklet.