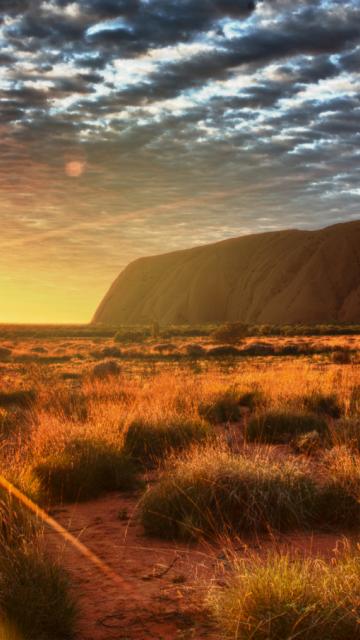 TJUNGU FESTIVAL RETURNS TO AYERS ROCK RESORT
Monday, 13 March 2017
The culturally acclaimed Tjungu Festival is returning to Ayers Rock Resort on 22-25 April 2017. In its fourth year, the vibrant event celebrates the best of Australian Indigenous culture featuring music, dance, film, fashion, food, sport and more. Tjungu (pronounced tjoo-ngoo) means meeting together in local Anangu language.
"The Tjungu Festival has been a stand-out success since its debut in 2014, showcasing diverse elements of Indigenous culture - both traditional and contemporary. Ayers Rock Resort is renowned for offering exceptional Indigenous Tourism experiences for guests and the Tjungu Festival takes this to an even higher level. Some of our best loved artists and ambassadors are returning this year, as well as even more local Anangu performers," said Andrew Williams, Chief Executive Officer of Voyages Indigenous Tourism Australia.
Highlights of the four day festival include an Indigenous Fashion Parade featuring top Indigenous model Samantha Harris, and celebrity chef Mark Olive will return to present an exclusive "Tastes of Tjungu" dining experience under the stars with a contemporary bush foods-inspired menu and Master Class. A host of musicians are set to perform including soul and country rock singer Johanna Campbell, backed by the Wakyal Benguith Band; youth drumming group Drum Atweme; the Pukatja Street reggae band; soulful Central Australian singer Catherine Satour, and Rrawun Marymuru from East Journey.
The event includes a local Anangu welcome to country with Inma dance, Putitja cultural dance performances and the popular Tjungu Film Festival. Festival-goers will also enjoy cultural markets and stalls featuring Indigenous-inspired food, fashion, art and lifestyle products, as well as the fourth annual Tjungu Cup – softball and AFL matches featuring local teams, supported by AFL hero and Indigenous rights ambassador Nicky Winmar.
Andrew Williams added: "The Tjungu Festival provides a platform for some of Australia's most exciting new Indigenous artists, designers and producers. In addition this year we are delighted to introduce the SHINE Emerging Artist Program, a music mentoring masterclass for one of the up-and-coming musicians performing at the festival."
This year's recipient of the SHINE emerging artists program will be Anangu man and Co-MC of the Tjungu Festival, Pascoe Braun, who will be mentored by outback country favourite Warren H Williams.
The majority of the Tjungu Festival activities are free to guests staying at Ayers Rock Resort, with the exception of the Tastes of Tjungu Desert Dining Experience and Masterclass, priced at $250 per adult and $125 per child (over 9 years), and the Tjungu Chillout Lounge, priced at $35 per adult and $17.50 per child (over 9 years).
A three-night Uluru Short Break package is on offer during the Tjungu Festival starting from $330 per person, twin share at the Outback Pioneer Hotel. This rate includes accommodation; full buffet breakfast daily; access to Tjungu Festival performances and events (charges apply for special dining events and dot painting workshops); Indigenous activities including Indigenous storytelling, dance and theatre performances, ecology and museum tour and guided garden walk; complimentary in-room WiFi; free use of the Resort shuttle, plus children 15 years and under stay free*.
Conditions: Subject to availability. Valid for travel until 1 April -31 June. Book before 31 March '17.
For bookings contact [email protected] or 1300 134 044.