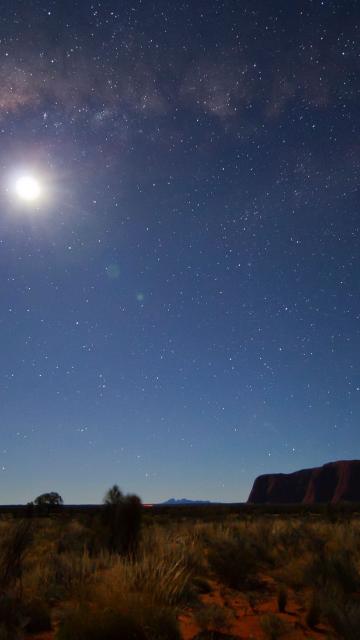 Voyages Ayers Rock to Host Uluru Astronomy Weekend 2018
Thursday, 09 August 2018
Astronomy enthusiasts of all ages can discover the spectacular Australian outback sky at Ayers Rock Resort's upcoming Uluru Astronomy Weekend on 14-16 September. Now in its fifth year, the popular event is run in partnership with the Australian Research Council Centre of Excellence for All Sky Astrophysics in 3 Dimensions (ASTRO 3D) and will be hosted by TV personality and meteorologist Nate Byrne, along with some of the world's leading astronomy experts.

The enlightening stargazing weekend will include fun family activities and demonstrations, an outdoor cinema experience under the stars, astro-photography and engaging discussions on energetic cosmic events, the structure of the Universe, dark matter, Aboriginal astronomy and navigation, how the universe began and much more.

For a full astronomical experience, two Signature Events are available at extra cost – an Astro Trivia Lunch and a Stellar Starlit Dinner. This unforgettable bush tucker-inspired buffet under the stars features a traditional Aboriginal dance performance and a guided tour of the night sky by Nate Byrne and astronomers Professors Ray Norris and Brad Tucker.

"Australia's Red Centre is arguably one of the best places in the world to explore the galaxies in the night sky, with its low humidity and minimal light pollution. This weekend will be a celebration of the Southern night sky and will inspire both those familiar with astronomy and those new to studying the cosmos," said Ray Stone, Voyages Executive General Manager Sales, Marketing and Distribution.

Those attending the Uluru Astronomy Weekend can enjoy a special rate starting from $315 per room, per night, based on a two night stay. This includes airport transfers, Astronomy Weekend activities and seminars (*charges apply for dining events), an Indigenous activities program and more.

Guests visiting Ayers Rock Resort for the Astronomy Weekend will also have the opportunity to experience Field of Light Uluru – the global light art phenomenon by internationally acclaimed artist Bruce Munro which is at Ayers Rock Resort until 31 December 2020.

**Rate is subject to availability

For further information go to: www.ayersrockresort.com.au
For bookings contact [email protected] or 1300 134 044.