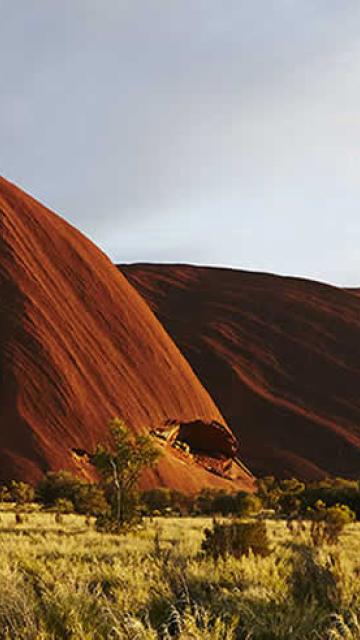 ULURU'S POPULARITY CONTINUES TO SOAR
Monday, 23 April 2018
Travel to Australia's spiritual heart continues to enjoy a resurgence in popularity, leading to the recent announcement of new Jetstar flights between Brisbane and Uluru (Connellan Airport) commencing on 3 August 2018.
The first ever direct flights between Brisbane and Uluru will operate three times weekly, with 56,000 seats available on the route annually, giving both domestic and international tourists easier access to the Red Centre. Operating on Mondays, Wednesdays and Fridays, the new flights will complement Jetstar's current direct services from Melbourne and Sydney to Uluru.
The new route is a result of the year-round high demand for accommodation at Ayers Rock Resort, stimulated by the wide range of experiences the destination has to offer – from Indigenous cultural experiences to Bush Tucker dining under the stars and the monumental art installation Field of Light Uluru which is now extended to 2020.
"South East Queensland is Ayers Rock Resort's third largest domestic market, and we anticipate residents will embrace this unprecedented easy access to Uluru. For international travelers the new direct Brisbane to Uluru flights complement the increase in passengers using Brisbane as a gateway to Australia or in accessing Queensland attractions from Uluru to Brisbane," said Voyages Executive General Manager Sales, Marketing and Distribution Ray Stone.
"We have always had strong demand from the important south east Queensland region and we know that these new flights will prove very popular. This combined with the re-opening of the newly renovated The Lost Camel hotel in July is a winning combination".
So strong is the demand for accommodation that the boutique-style Lost Camel hotel is re-opening at Ayers Rock Resort on 1 July. With a newly refurbished mix of Aboriginal and urban themes, the hotel is located in the heart of the Resort and will offer a contemporary and fun mid-range accommodation option.
The compact studio-style rooms will be decorated in bright colours and crisp whites, featuring a sumptuous King Bed. Guests can soak up the sun by the hotel's central swimming pool, browse the shops or enjoy a casual meal at one of the cafés located in the Resort Town Square just minutes' walk away. Guests will also have access to free in-room Wi-Fi and will be able to take part in the many free daily guest activities on offer.
Ayers Rock Resort is situated at the gateway of Uluru-Kata Tjuta National Park and offers a fascinating range of experiences for guests to discover the spiritual heart of Australia.
For bookings contact [email protected] or 1300 134 044.