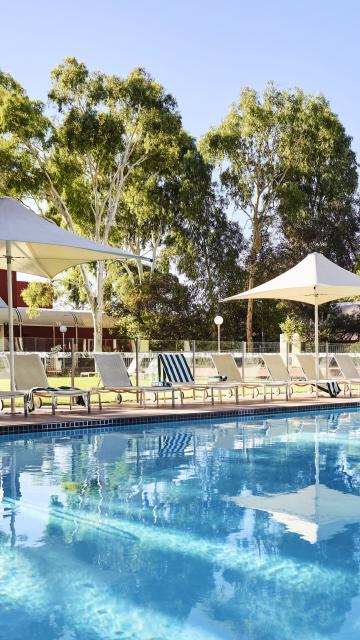 QANTAS AUSTRALIAN TOURISM AWARD
Saturday, 06 February 2016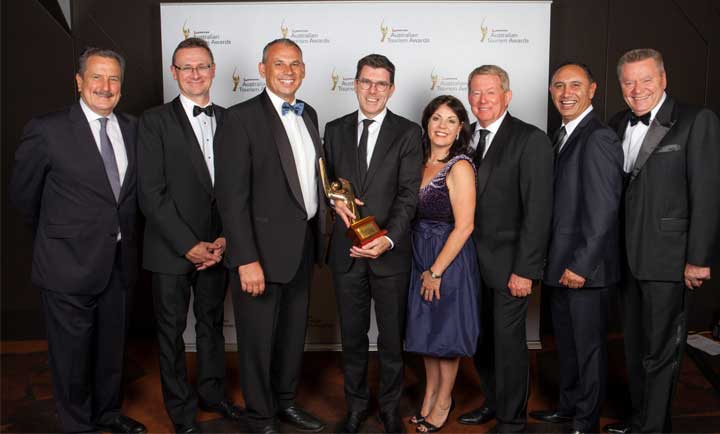 Ayers Rock Resort has been awarded the Qantas Australian Tourism Award for Aboriginal & Torres Strait Islander Tourism for the second year in a row at a prestigious gala awards ceremony and dinner at the Melbourne Convention and Exhibition Centre on Friday 5 February.
Andrew Williams, Voyages Indigenous Tourism Australia Chief Executive Officer commented: "We are delighted that our ongoing commitment to authentic Indigenous guest experiences and Indigenous employment has been recognised once again at the highest level in Australia."
The Aboriginal & Torres Strait Islander Tourism Award highlights tourism operations that demonstrate authenticity and integrity in fostering a greater understanding of Aboriginal and Torres Strait Islander culture, history and traditions.
Ayers Rock Resort was recognised for its delivery of a daily suite of free Indigenous guest activities that include bush yarns, garden walks, spear and boomerang throwing, dance and theatre performances and more, as well as its significant advances in Indigenous employment, training and development. The Resort won the Indigenous Tourism accolade in the 2014 Australian Tourism Awards and was a silver finalist in the 2013 awards.
"This accolade is a great achievement and an endorsement of our team's dedication to provide exemplary Indigenous experiences for our guests," added Andrew.
Tourism Australia Managing Director, John O'Sullivan, said Ayers Rock Resort fully deserved industry recognition for the work it had done this year and over a longer period in championing Indigenous tourism.
"A key element within our international marketing activities is increasing awareness, interest and participation in Indigenous tourism.
"Ayers Rock Resort continues to invest heavily in delivering exactly the sort of authentic Indigenous experiences that today's international travellers are seeking out. What's really pleasing is that the great work going on behind the scenes, in terms of training and employment, is translating into increased bookings and satisfied visitors," he said.
The Australian Tourism Awards were established by the Federal Government in 1985 and are the tourism industry's peak awards, celebrating and promoting excellence in tourism.
Image (left to right): Ray Stone, Executive GM Sales, Marketing and Distribution, Voyages, John O'Sullivan, CEO Tourism Australia, Adam Giles, NT Chief Minister, Andrew Williams, CEO Voyages, Karena Noble, Director of Public Relations, Voyages, Tony Mayell, CEO, Tourism Northern Territory, Michael Parkins, GM National, Indigenous Training Academy, Ayers Rock Resort, Manfred Pieper, Executive General Manager Operations, Ayers Rock Resort.