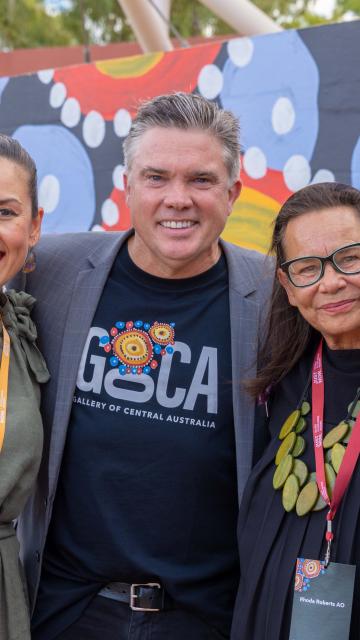 Voyages Indigenous Tourism Australia 
appoints Arts Ambassador
L-R: Outgoing GoCA Manager – Fabiola Martinez-Hinojosa, Voyages Indigenous Tourism Australia CEO – Matthew Cameron-Smith, GoCA Arts Ambassador – Rhoda Roberts AO, Artist – Rene Kulitja at GoCA's 1st Anniversary gathering
31 March 2022
Voyages Indigenous Tourism Australia has appointed highly-awarded creative arts powerhouse, Rhoda Roberts AO as Arts Ambassador for the organisation.
A Widjabul/Wia:bal woman from the Bundjalung territories, Rhoda has extensive experience working in the Indigenous arts arena supporting commercial, community and non-profit organisations, festivals and events.
She is currently the curator of the annual Parrtjima Festival in Alice Springs; Festival Director for the Boomerang Dreaming Festival; the First Nations Creative Director for the Northern Rivers Performing Arts (NORPA), First Nations consultant to the National Institute of Dramatic Art (NIDA) and the Elder in Residence for SBS TV.
In her role with Voyages, Roberts will be working closely with the managers of the new Gallery of Central Australia (GOCA) at Ayers Rock Resort and the Gallery at the Mossman Gorge Cultural Centre in Tropical North Queensland.
"We are honoured to have Rhoda guiding us as we further develop our Indigenous Arts program and look forward to tapping into her vast expertise in this space" said Matthew Cameron-Smith, CEO of Voyages Indigenous Tourism Australia.
"We know that experiencing Indigenous culture is high on travellers' wish lists as both domestic and international markets are now able to travel more freely."
"We are committed to working closely with Indigenous arts centres and artists to honour and showcase their work to our guests and provide them with a sustainable future."
"Working with Rhoda will help us to progress this commitment allowing us to draw on her broad experience for our existing galleries and to develop future opportunities," concluded Cameron-Smith.
Roberts will be in attendance this week as the Gallery of Central Australia celebrates its first anniversary.
The Gallery exclusively showcases artworks from existing and emerging artists from the Central Australia and Western Desert regions.
"The work from this region is extensive embracing the generations of cultural distinctiveness, and the diversity of desert expressions that only exist in this place," said Roberts.
Having worked with some of our country's most important Indigenous artists, Roberts understands the significance of showcasing their works which pass down the stories of country.
"Art creates a connection between the artist and the viewer which is profoundly important as we develop as a nation."
"I am looking forward to working with Voyages to advance their commitment to the arts and applaud their foresight in taking this next step," concluded Roberts.
For more information on the Gallery of Central Australia please visit: https://www.ayersrockresort.com.au/art-gallery/goca