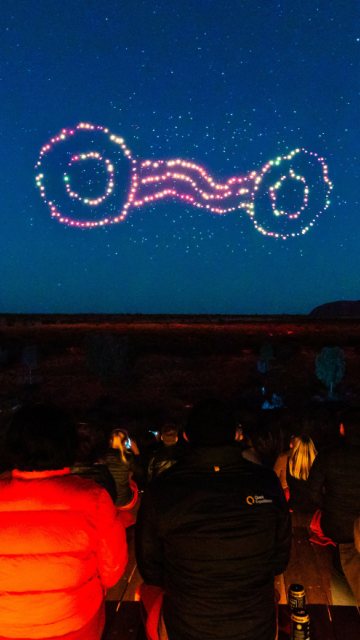 Wintjiri Wiru shines bright at Brolga Awards
13 November 2023
Wintjiri Wiru emerged as the standout performer at the 36th Brolga Northern Territory Tourism Awards, winning Best Aboriginal and Torres Strait Islander Tourism Experience as well as being crowned the Chair's Choice for Tourism Excellence.
Held in Darwin on Saturday 11 November, the NT Brolga Awards is the Territory tourism industry's night of nights with 28 leading businesses, organisations and individuals crowned winners.
"We're absolutely thrilled Wintjiri Wiru has been recognised at the Brolga Awards. Importantly, these awards honour the Anangu and and the story they have so graciously shared with the world," said Matt Cameron-Smith, CEO of Voyages Indigenous Tourism Australia.
"We're incredibly proud to be able to share this stunning Indigenous storytelling experience with our guests, offering an authentic connection to the Anangu culture in the spiritual heart of Australia," he concluded.
Wintjiri Wiru, meaning 'beautiful view out to the horizon' in the local Pitjantjatjara language, is a breathtaking cultural storytelling experience that brings to life a chapter of the ancestral Mala story from Kaltukatjara to Uluru through choreographed drones, lasers and projections that illuminate the night sky.
It is the first time an experience of this magnitude has been performed on a regular basis anywhere in the world. More than 1,100 drones take flight each night to depict aspects of the Mala story accompanied by narration in the local Pitjantjatjara language and a soundtrack with traditional Inma recorded with members of the local Anangu community.
Designed and produced by world-renowned media architecture studio RAMUS, the Australian desert is illuminated with a spectacle of lights, projections and lasers shining on the spinifex and mulga, connecting the earth and sky to offer an expansive experience of light and sound.
For more information or to book, visit www.ayersrockresort.com.au/wintjiri-wiru, your local travel agent, or call 1300 134 044.
Acknowledgment: As custodians of the land, Anangu hold the Mala story from Kaltukatjara to Uluru. To share their story, RAMUS designed and produced an artistic platform using drones, light and sound to create an immersive storytelling experience.
About Voyages Indigenous Tourism Australia: Voyages Indigenous Tourism Australia is a wholly-owned subsidiary of the Indigenous Land and Sea Corporation (ILSC) established to undertake tourism business on its behalf. Voyages offers unique experiences and cultural immersion in spectacular locations around Australia including Ayers Rock Resort in the Northern Territory and the Mossman Gorge Cultural Centre in Tropical North Queensland. Voyages works closely with local communities, respecting and supporting Indigenous culture and offering employment, training and business development opportunities to Aboriginal and Torres Strait Islanders. Profits from all business activities are re-invested in the Indigenous and resort experiences and through the various training and development programs in place around Australia.