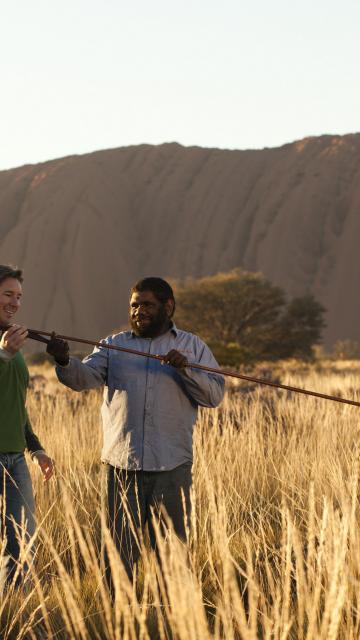 ANANGU WAI LAUNCHED AT AYERS ROCK RESORT
Thursday, 29 September 2016
Anangu Wai, a fascinating book and photography exhibition, is launching at 11am today at Voyages Ayers Rock Resort's Wintjiri Arts & Museum. Anangu Wai offers a glimpse into life in the Mutitjulu and Imanpa communities through a series of images and stories.
Anangu Wai (Hello, people) will exhibit in Wintjiri Arts & Museum for a month and aims to promote cultural understanding to visitors of Anangu land through art and storytelling. The project was undertaken for and on behalf of Kunga Kutjara Aboriginal Corporation, a not-for-profit community arts and cultural organisation established in 2014. Residents of Imanpa and Mutitjulu generously gave their time and cultural guidance in telling their stories and sharing insights into remote community life.
The launch will be attended by members of the Mutitjulu and Imanpa communities, along with members of the Voyages management team.
"We are delighted to be hosting Anangu Wai with Kunga Kutjara Aboriginal Corporation and could not imagine a more fitting exhibition to be displayed in our Wintjiri Arts & Museum. The museum is dedicated entirely to showcasing and supporting local Indigenous art, whilst further enhancing the guest experience and understanding of local Anangu culture," said Andrew Williams, Chief Executive Officer for Voyages Indigenous Tourism Australia.
The book, which was funded through the Northern Territory Department of Arts and Museums, is the second in a series of two books. The first Tjintu Tjuta Kaltukatjarala (Days in Docker River) was published in April 2016 and reflects life in the community of Kaltukatjara (Docker River). Anangu Wai will be available for sale through Wintjiri Arts & Museum for $30 or the two book series for $50, with sales of the book supporting the Kunga Kutjara Aboriginal Corporation.