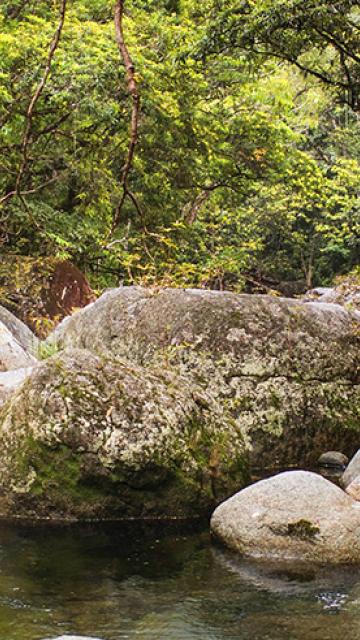 New General Manager for Mossman Gorge Centre
(May 27, 2021)
Rachael Hodges has been appointed to the role of General Manager at the Mossman
Gorge Centre, the Indigenous eco-tourism development which acts as a gateway to the Mossman
Gorge World Heritage site in Far North Queensland.

Of both Aboriginal and Torres Strait Islander descent, Rachael's people come from the Goreng
Goreng/Girramay/Gunggandji groups of Queensland and the Kuareg people of the Torres Strait.
Rachael commenced at Mossman Gorge Centre in April 2012 as the Operations Manager, just prior
to the official opening of the facility. Prior to that time, she was acting CEO for Bamanga Bubu
Ngadimunku (BBN) Aboriginal Corporation located at the Mossman Gorge Aboriginal community
where she had also managed the Kuku Yalanji Dreamtime Walks.

In her new role, Rachael will be responsible for overseeing all operational and business aspects of
the Centre which provides visitor information, showcases the local Kuku Yalanji art gallery and retail
store, houses the Mayi café and facilitates shuttle bus transport to the Gorge.

She will also continue to work closely with Uncle Roy Gibson, the visionary behind the founding of
the Centre, the training school and the Dreamtime Gorge Walk which gives visitors a deeper
understanding of the Daintree Forest and provides employment opportunities for the local
community.

Rachael said "It is a privilege to be appointed as General Manager for the Mossman Gorge Centre
and I am extremely excited about the journey ahead. We have a resilient team who have been able
to adapt to the new COVID environment. I am a strong believer in empowering our people through
employment and training opportunities and this has been, and will continue to be, at the heart of my
journey."

Commenting on the appointment, Matthew Cameron-Smith, CEO of Voyages Indigenous Tourism
Australia said "This appointment is a great step forward in increasing our indigenous workforce at a
senior management level. We are delighted that Rachael was interested in taking on this new
challenge and look forward to her bringing her expertise and her vision to the Centre."

For further information visit www.mossmangorge.com.au