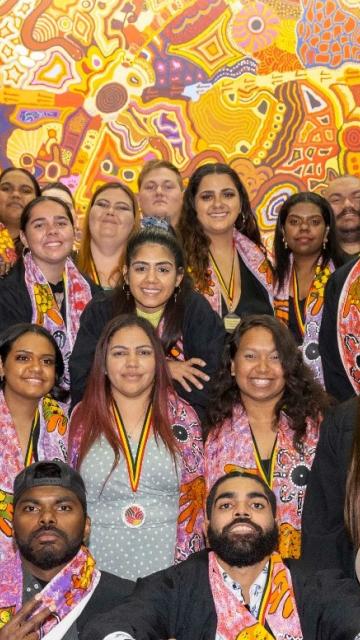 National Indigenous Training Academy graduates 35 students at Ayers Rock Resort celebration
24 August, 2021
Voyages Indigenous Tourism Australia has held a presentation ceremony at Ayers Rock Resort to recognise 35 students graduating from the National Indigenous Training Academy (NITA) 2021 class, bringing the total number of graduates to 561 since the program's inception in 2011.
NITA was established to provide young Indigenous Australians with solid career prospects in Retail, Horticulture, Hospitality and Tourism at Voyages properties - Ayers Rock Resort and Mossman Gorge Centre in Qld - as well as wider employment opportunities with other organisations.
This year, 22 students obtained their Certificate III Hospitality - 12 in Food and Beverage, six in housekeeping/cleaning, four in front office with 13 students gaining a Certificate III in Horticulture. Eight of these students also received Academic Excellence Awards.
The Gala event style ceremony was attended by graduates and their families and senior representatives from Voyages and the NITA team.
With current lockdown conditions in place, the event was also live streamed for the first time so CEO, Matthew Cameron-Smith and members of the ILSC and Voyages Board, friends and families could also view the ceremony.
"If there was one night, I wish I could be at Uluru it's tonight!" said Cameron-Smith as he spoke to the graduates, telling them how proud they should feel of their achievements. "Take a look around at your fellow graduates tonight as you are looking at the future of our industry. Your achievement in graduating during such a difficult trading period is inspiration to us all. The determination exhibited by every one of you has got you this far and it is your determination that will carry you as far as you want to go" he continued.
Around 40% of employment at Ayers Rock Resort is made up of Indigenous Australians with a 100% Indigenous team now delivering Tali Wiru, the resort's premium dining experience which will celebrate its tenth anniversary in 2022.
Voyages Indigenous Tourism Australia partners with two Registered Training Organisations - William Angliss Institute (WAI) and Charles Darwin University (CDU) - on the NITA program to deliver Certificate III level qualifications in Hospitality, Tourism, Retail and Horticulture.
For more information go to https://www.voyages.com.au/national-indigenous-training-academy
-ends-
For further information:
Jill Collins | [email protected] | 0417 654 474
Katie Cahill | [email protected] | 0439 775 656