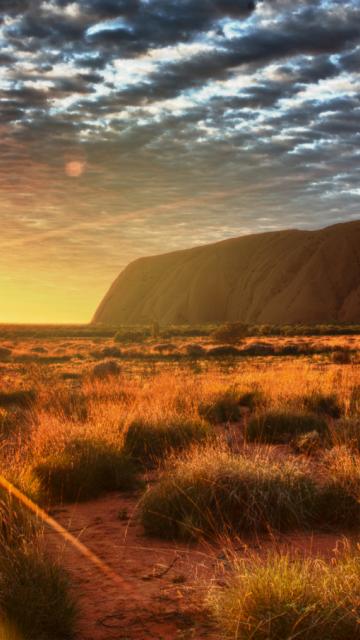 VOYAGES CELEBRATES NEW WAVE OF INDIGENOUS GRADUATES
Tuesday, 12 December 2017
Voyages Indigenous Tourism Australia is celebrating the graduation of 22 Indigenous trainees and 12 Indigenous Step Up leaders from its National Indigenous Training Academy (NITA), based at Ayers Rock Resort. NITA was established to develop an Indigenous workforce for Ayers Rock Resort and the wider tourism and hospitality industries, and has seen 295 graduations since opening in 2011.
"We would like to congratulate today's graduates on their hard work and achievements, and wish them every success for their ongoing careers at Ayers Rock Resort and beyond in the wider tourism and hospitality industry. 40% of our team at Ayers Rock Resort are Indigenous and we are committed to further growing our skilled Indigenous workforce," said Voyages CEO Andrew Williams.
NITA's Indigenous trainees receive accredited, enterprise-based, residential training in hospitality and related disciplines, and are guaranteed employment upon completion. Around 30% of Ayers Rock Resort's Aboriginal and Torres Strait employee base are graduates from NITA, and many other graduates are continuing their careers in the industry. Voyages works with industry partners such as Accor to provide career pathways for graduates.
Voyages' current focus is on developing careers for Aboriginal and Torres Strait Islander employees to increase representation in senior and leadership positions. Amongst today's graduates are 12 Ayers Rock Resort employees who have taken part in the Step Up Leadership Program in 2016 and 2017. These future leaders receive training and on the job mentoring to equip them with the leadership skills, experience and qualifications needed to take the next step in their career.
In another NITA initiative to build the Indigenous workforce at Ayers Rock Resort, Voyages has launched a new Indigenous Future Leaders program this month aimed at Indigenous employees with the potential to move into management roles. Six Indigenous employees are commencing the program which will see them rotate between three placements, undertake tailored on the job training to increase their experience and skills in management responsibilities together with formal training leading to a Cert IV in Leadership and Management. To qualify, applicants are required to have 18 months experience, the support of their General Manager, display excellence in the workplace and have an aptitude for leadership.
"Increasingly our guests are seeking more authentic travel experiences and meaningful connections with Indigenous Australians during their stay, and our Indigenous team members really help deliver this," said Andrew Williams.
"This is complemented by our suite of free Indigenous guest activities which includes a Bush Food Experience, Garden Walk, Bush Yarns and Indigenous dance and theatre performances," he added.
In February 2017 Ayers Rock Resort was awarded the Qantas Australian Tourism Award for Aboriginal & Torres Strait Islander Tourism for the third year in a row, gaining entry into the coveted Australian Tourism Awards Hall of Fame.