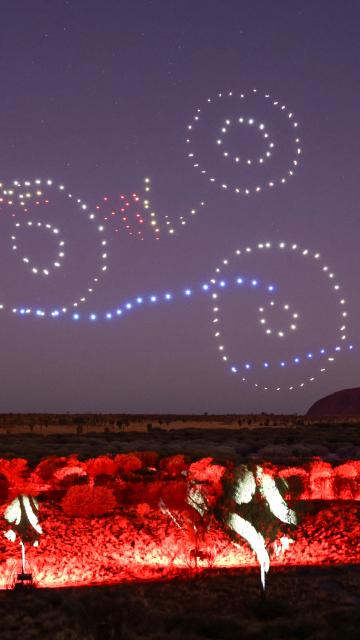 Voyages Expands Wintjiri Wiru Offering
Third nightly sound and light show - Twilight - added to the line-up at Uluru
23 August 2023
Just three months after the launch of Wintjiri Wiru, the world-first, cultural storytelling experience brought to life by ground-breaking drone and laser technology, Voyages Indigenous Tourism Australia is adding a third nightly show - Wintjiri Wiru Twilight.
In response to outstanding global reviews from visitors to Uluru together with strong demand, Wintjiri Wiru Twilight will join the three-hour Sunset Dinner and the 1.5 hour After Dark shows. The new show will take place atop the same environmentally sustainable, purpose-built theatre with spectacular views out to Uluru and Kata Tjuta. Voyages has also introduced pricing for children aged five to 15 and age-appropriate hampers so they can join in the cultural experience of Wintjiri Wiru.
"We've been absolutely blown away by the feedback for Wintjiri Wiru. Our guests are telling us they feel privileged to be able to share in the Mala story, that the food is delicious and the technology is dazzling," said Matthew Cameron-Smith, CEO of Voyages. "We're thrilled to be able to offer even more ways to experience Wintjiri Wiru with our new Twilight show together with dedicated offerings for kids."
Wintjiri Wiru, meaning 'beautiful view out to the horizon' in the local Pitjantjatjara language, is a breathtaking cultural storytelling experience that brings to life a chapter of the ancestral Mala story from Kaltukatjara to Uluru through choreographed drones, lasers and projections that illuminate the night sky.
It is the first time an experience of this magnitude has been performed on a regular basis anywhere in the world. More than 1,100 drones take flight each night to depict aspects of the Mala story accompanied by narration in the local Pitjantjatjara language and a soundtrack with traditional inma recorded with members of the local Anangu community. Designed and produced by world-renowned media architecture studio RAMUS, the Australian desert is illuminated with a spectacle of lights, projections and lasers shining on the spinifex and mulga, connecting the earth and sky to offer an expansive experience of light and sound.
Wintjiri Wiru Shows
Twilight guests enjoy Australian wines together with a delicious cheese and dessert selection while marvelling at the beauty of Uluru's silhouette in twilight. When darkness falls, guests enjoy the fully immersive 20-minute drone, sound and light experience.
The Twilight and After Dark dessert and cheese hamper includes a variety of culinary offerings such as fruit, chutneys, dips and a slice featuring native flavours.
The three-hour Sunset Dinner experience combines the beauty of sunset with gourmet canapes and a delicious hamper that showcases native Australian produce and Indigenous bush foods like smoked emu with saltbush chilli crust and lemon myrtle crocodile curry pie. Guests enjoy cocktails made with Koala Gin from Beachtree Distillery and premium Australian wines from Penfolds.
Menus have been refined to include more options for children, with the gourmet hamper for Sunset Dinner now including a soft camel tour souvenir. Hampers can also be designed to cater for allergies and dietary requirements.
Pricing for the Wintjiri Wiru Twilight and After Dark shows is AUD$190 for adults and AUD$95 for children. The Wintjiri Wiru Sunset Dinner experience is AUD$385 for adults and AUD$125 for children. After Dark is the final show held each evening. Twilight is now available to book.
For more information and bookings go to: www.ayersrockresort.com.au or call 1300 134 044.
Images are available at: www.voyages.com.au/presscentre
Media Contact:
Jill Collins | [email protected] | 0417 654 474
Natalie Brown | [email protected] | 0422 565 001
Acknowledgment Statement
As custodians of the land, Anangu hold the Mala story from Kaltukatjara to Uluru. To share their story, RAMUS designed and produced an artistic platform using drones, light and sound to create an immersive storytelling experience.
About Voyages Indigenous Tourism Australia:
Voyages Indigenous Tourism Australia is a wholly-owned subsidiary of the Indigenous Land and Sea Corporation (ILSC) established to undertake tourism business on its behalf. Voyages offers unique experiences and cultural immersion in spectacular locations around Australia including Ayers Rock Resort in the Northern Territory and the Mossman Gorge Cultural Centre in Tropical North Queensland. Voyages works closely with local communities, respecting and supporting Indigenous culture and offering employment, training and business development opportunities to Aboriginal and Torres Strait Islanders. Profits from all business activities are re-invested in the Indigenous and resort experiences and through the various training and development programs in place around Australia.